Trail de Santo António 2020
Vila Nova da Barquinha, Santarém, Portugal
14 June 2020
Taking into account the isolation period we're living due to COVID-19, registrations for this event are temporarily suspended.
Event organizers will provide an update regarding the scheduled event soon.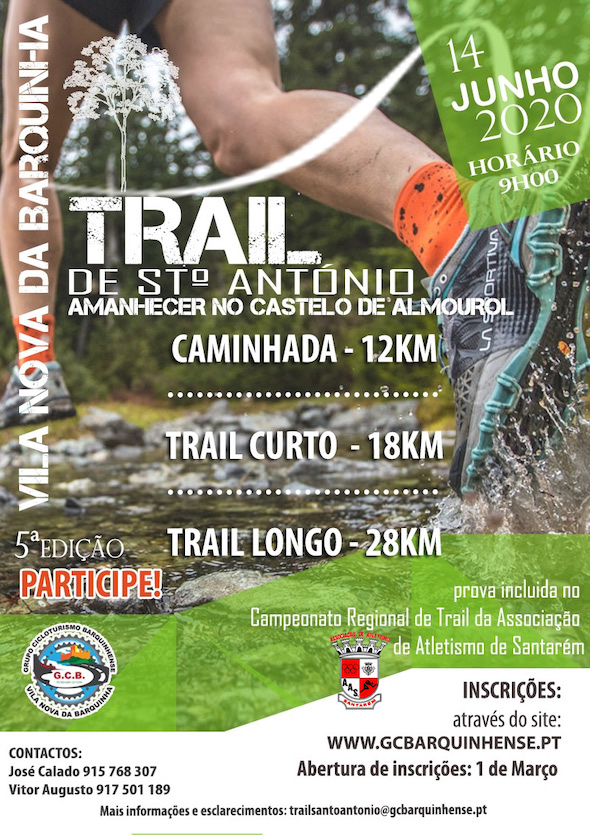 Trail de Santo António 2020
A 14 de junho, mais uma edição do Trail de Santo António, prova inserida no campeonato regional da Associação de Atletismo de Santarém, para mais um ano surpreender os participantes.
Mantendo o slogan "Amanhecer no Castelo de Almourol" os atletas vão percorrer os melhores trilhos da região, com o rio Tejo como companheiro de Aventura, prova que te levará a conhecer os melhores trilhos da zona centro, trilhos onde decorre a mítica prova "Almourol à Vista".
Com partida em Vila Nova da Barquinha, onde poderás contar com duas provas: Trail Longo (TL), Trail Curto (TC) e Caminhada.
O Trail Longo 28 km e o Trail curto 18 km têm prémios por escalões.
A edição do ano passado foi um sucesso. Vamos repetir este ano.