IX Trilhos dos Templários/Xporfit
Tomar, Santarém, Portugal
29 September 2019
Weather forecast available 7 days before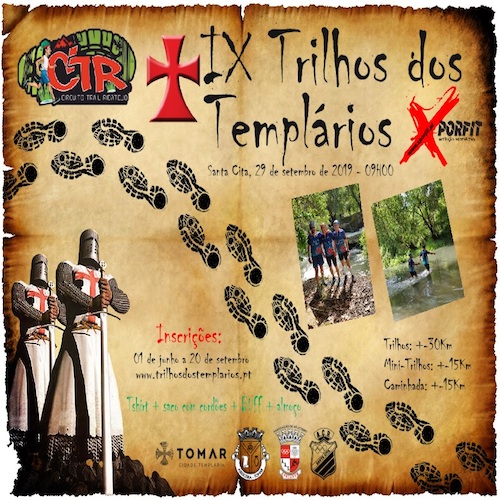 IX Trilhos dos Templários/Xporfit
Na sequência do sucesso obtido nos VIII Trilhos dos Templários em 2018, em que tivemos 625 atletas e caminheiros inscritos, a equipa Trilhos dos Templários da A.C.R. de Santa Cita vai realizar, no próximo dia 29 de setembro de 2019, os "IX TRILHOS DOS TEMPLÁRIOS". Este ano o evento é constituído pelos Trilhos e Mini trilhos, ambos de caráter competitivo, e por uma caminhada de andamento livre. Os percursos serão percorridos em trilhos ao longo das paisagens deslumbrantes do rio Nabão e do rio Zêzere, sendo 95% dos percursos em trilhos ou estradões de terra batida.
FAQ
What does the registration include?
- T-shirt técnica com nome
- BUFF
- Saco com cordões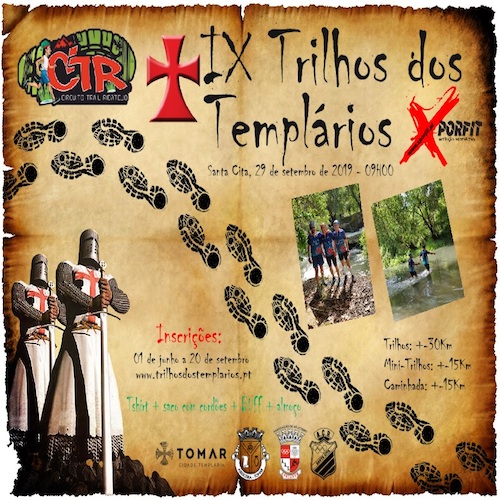 SUPPORT
Any further questions?
The IX Trilhos dos Templários/Xporfit is always here to help. Check our FAQ, send us an e-mail or give us a call!
+351 914 641 017 / +351 938 404 619