III TRILHOS DAS VINHAS – CASA ERMELINDA FREITAS 2020
Marateca, Setúbal, Portugal
30 August 2020
Taking into account the isolation period we're living due to COVID-19, registrations for this event are temporarily suspended.
Event organizers will provide an update regarding the scheduled event soon.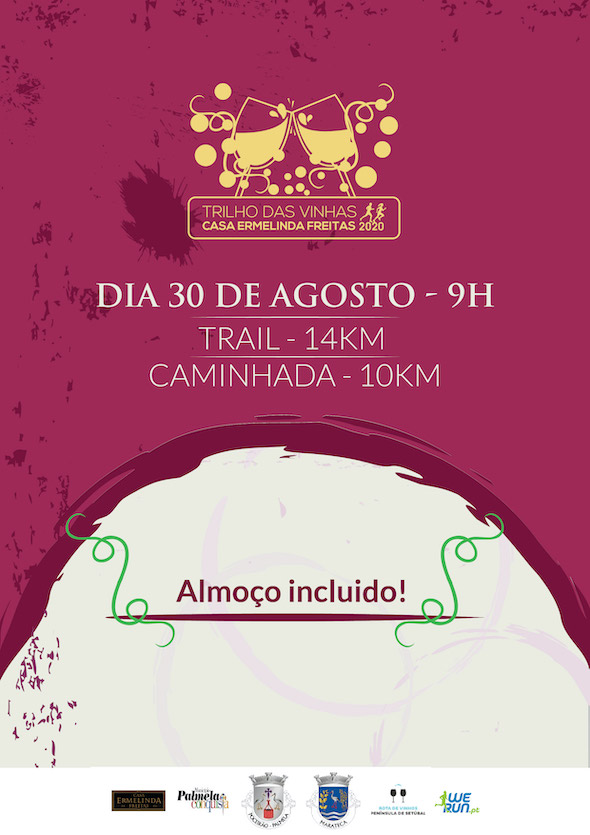 TRILHOS DAS VINHAS - CASA ERMELINDA FREITAS 2020
A Werun, com a co-parceria da Casa Ermelinda Freitas, da Câmara Municipal de Palmela e União Freguesias do Poceirão e Marateca, irá realizar no próximo dia 30 de agosto de 2020, a 3.ª Edição dos Trilhos das Vinhas – Casa Ermelinda Freitas 2020.
O objetivo é promover o Desporto e o Convívio dos participantes.
Os Trilhos das Vinhas – Casa Ermelinda Freitas 2020 constituem-se num Trail Running de 14 km e numa Caminhada de 10 km, no meio das Vinhas, além de outras atividades incluídas, como prova de vinhos, almoço e visita guiada as vinhas.
Irá proporcionar aos participantes um dia de convívio, sendo a parte da manhã a Correr/Caminhar e a tarde para descontrair e relaxar.
Um dia completo para toda a família!