Beskrivelse
Nutritional Info
Kommentarer (1233)
FAQ (0)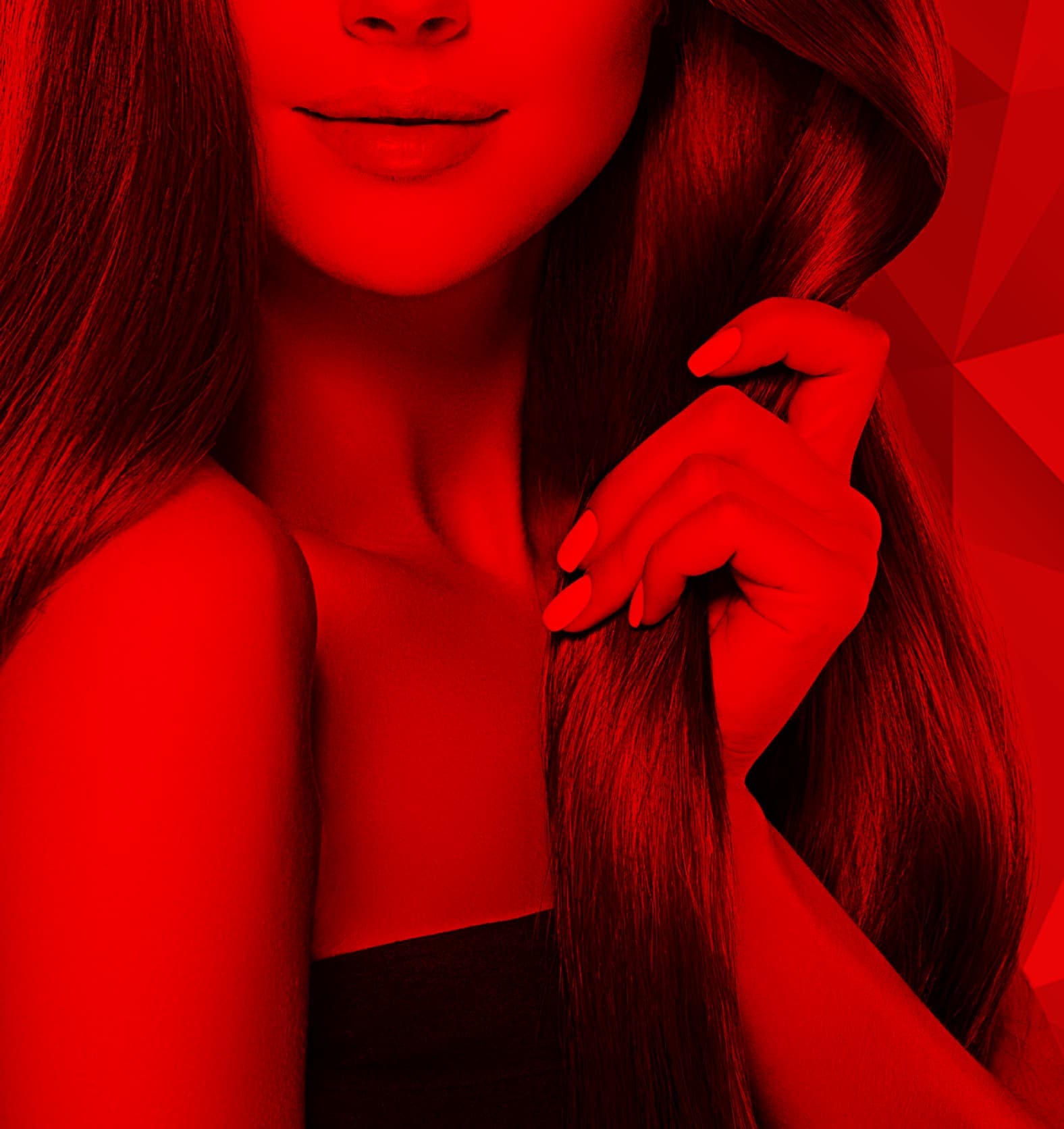 TREAT YOURSELF
FROM WITHIN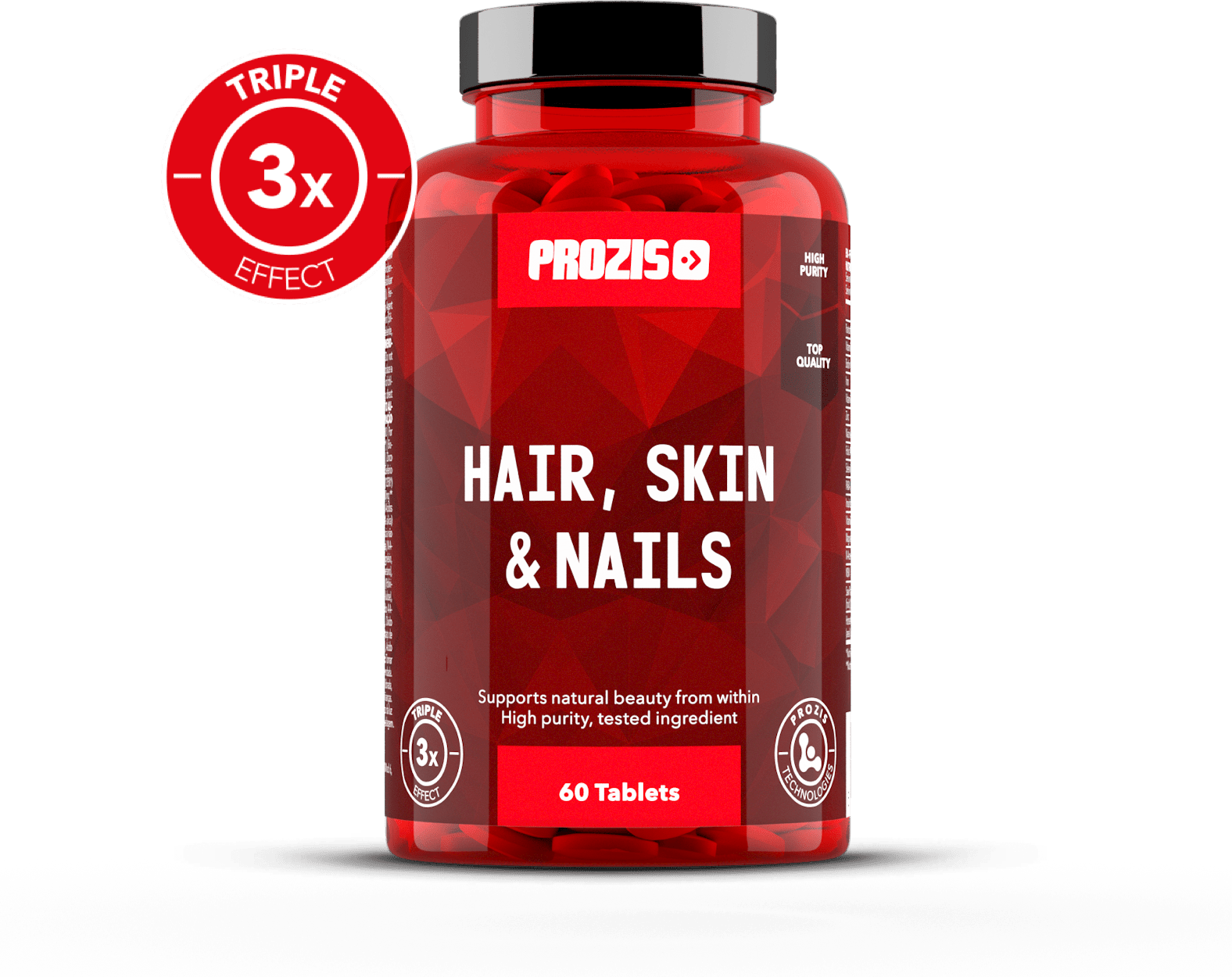 Herbal, Vitamin and Mineral Formula
Supports Natural Beauty
It's a sign
The body gives you clues to let you know whether you are supplying it with all the nutrients it needs or not. You just have to pay attention.
Do your nails break too easily? Is your hair dull and dry? Can't seem to find a way to hydrate your skin, no matter what lotions you resort to? These are the signs.
The recipe for beauty
There are no miracles or secret formulas. If your diet provides you with all the nutrients required for the normal functioning of your body and mind, then you won't need much else. The problem is when you are not able to guarantee an adequate intake of nutrients, whether due to a weight-loss diet, the training program you are following, or the demanding lifestyle you have. Yes, your everyday routine can take its toll, but we are here to help you give your body all the nutrients it needs.
Beauty and the best
Prozis Hair, Skin & Nails contains an amazing blend of vitamins, minerals and herbal benefits. A formula created to bring out the beauty that lies within.
But that's not all, your vision (vitamin A), your teeth (vitamin D), your immune system (selenium) and even your nervous system (niacin and biotin) can benefit from this formula.
Furthermore, Prozis Hair, Skin & Nails is enhanced with saw palmetto and horsetail extract. Saw palmetto is the name of a species of American dwarf palm tree, and of the fruits it bears, which contain numerous active compounds such as fatty acids, plant sterols and flavonoids. On the other hand, horsetail extract is a herb used for medicinal purposes since ancient Roman and Greek times.
Enjoy this extremely wholesome formula.
For What?
Prozis has developed this meticulous and complete formula to help you obtain all the nutrients you need to bring out the beauty inside you. Treat your nails, hair and skin the way they deserve.
Recommended daily intake: 2 tablets
Prozis Hair, Skin & Nails highlights:
Bemærk: Vi anbefaler at du konsulterer en læge eller ernæringsekspert, hvis du har spørgsmål vedrørende brugen af ​​dette produkt. Ernæringsmæssige oplysninger kan variere afhængigt af smag.
* De viste billeder tjener kun et illustrativt og reklamemæssigt formål og kan derfor afvige fra det endelige produkt.
Antal:
60 tablet/tabletter
Portionsstørrelse:
2 tablet/tabletter
Portioner per beholder:
30
PABA (para-amino-benzoesyre)
**
50 mg
N-acetyl-L-cystein
**
500 mg
Horsetail (Equisetum arvense) (Aerial Parts)
**
300 mg
* Referenceindtag for en voksen gennemsnitsperson (8 400 kJ/2 000kcal).
** Referenceindtag er ikke fastsat

Ingredienser
Fyldemiddel/midler (Mikrokrystallinsk cellulose,
Dicalciumfosfat
), N-acetyl-L-cystein,
Magnesiumoxid
, Ekstrakt af padderok,
Bærekstrakt af savpalme
,
Methylsulfonylmethan (MSM)
,
L-ascorbinsyre
,
Jernfumarat
, Overfladebehandlingsmiddel/-midler (Hydroxypropylmethylcellulose, Glycerol, Hydroxypropylcellulose),
Inositol
, Para-aminobenzoesyre (PABA) (4-aminobenzoesyre), Antiklumpningsmidler (
Magnesiumsalte af fedtsyrer
, Stearinsyre),
Zinkoxid
,
Nicotinamid
, Retinylacetat,
Calcium-D-pantothenat
,
Cholecalciferol
, Pteroylmonoglutaminsyre, Natriumselenit,
D-biotin
.
Anbefalet daglig portion: Tag 2 tabletter om dagen.
Kosttilskud
Advarsel:
Not recommended for women of fertile age or going through menopause, men and women of pre-pubescent age, or people suffering from diseases characterized by an abnormal accumulation of iron. Not to be taken by children under 3. It is recommended to consult your doctor or pharmacist before using this product. Overskrid ikke den anbefalede daglige dosis. Dette produkt må ikke træde i stedet for en varieret og afbalanceret kost og en sund livsstil. Opbevares utilgængeligt for børn. Opbevares i tæt lukket originalemballage på et tørt og køligt sted, beskyttet mod direkte sollys.
Find the answers to your questions in our FAQ.
Ask a question
Find the answer to your questions about this product in our FAQ.
Please note that any nutritional advice must be given by your physician or nutritionist!
Fill in the form and send us a message:
Important: You may receive an e-mail after filling in this form
Annuller
Din besked er blevet sendt. Tak for din henvendelse, du vil modtage svar hurtigst muligt!
Prozis
Hair, Skin & Nails 60 tabs
Let your nails, hair and skin reflect the beauty within you with the effects of this complete formula. Prozis Hair, Skin & Nails was made to support beauty.
Hair, Skin & Nails 60 tabs
Du skal logge ind for at fortsætte!