Xcore
N.O. Shox 660g
Xcore N.O. Shox - Feel The Power of Pump!
Description
Nutritional Info
Comments (3175)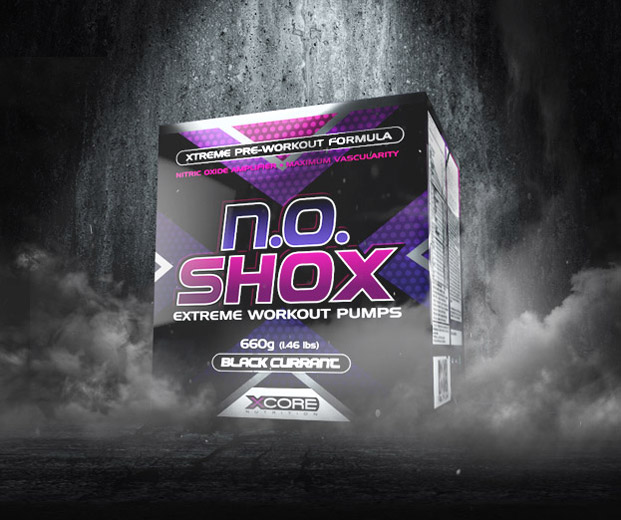 Xtreme Measures for Xtreme Results

XCORE NUTRITION N.O.SHOX
Xcore Nutrition N.O. Shox is the result of many years of research of the Xcore Nutrition scientific team. It is simply the most efficient pre-workout on the market: N.O. Shox, for extreme results.
N.O. Shox takes your training and your body to a new reality. Thanks to its exclusive formula, XSBT, N.O. Shox will redefine your limits of strength, explosion, focus, and endurance.
Some supplements want something to happen, N.O. Shox will make it happen.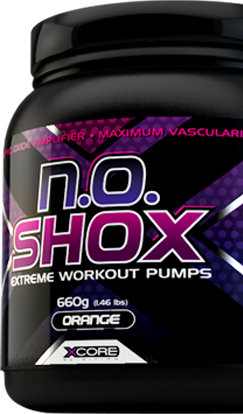 Redefine your Idea of Maximum Strength and Maximum Energy with N.O. Shox
N.O. Shox increases mental focus up to 92% and strength up to 45%. The high rate of nutrients absorption, creates an explosion of nutrients inside every cell of your body. The result is simple: more vasodilation and irrigation, and better absorption of nutrients, supporting an extreme anabolic action so as to improve mass gains. Xcore Nutrition has added amino acids to the formula of N.O. Shox so as to help in muscle recovery and reconstruction, reducing recovery time.






N.O. SHOX will redefine your idea about:
• Maximum Strength;
• Nitric Oxide;
• Decrease in muscle waste;
Note: We recommend you consult a physician or nutritionist if you have any questions regarding the use of this product. Nutritional information may vary depending on flavour.
* Images presented are merely for illustrative and promotional purposes only. The product's final image may be altered.
Best before end:
2019-11-30
Serving size:
1.5 scoop(s) (25.0 g)
Servings per container:
26
* Reference intake of an average adult (8400 kJ/ 2000 kcal).
** Reference intake not established.

Ingredients
Bulking Agent(s) (
Maltodextrin
), N.O. SHOX™ Blend (
BCAAs (L-Leucine, L-Valine, L-Isoleucine)
CocoMineral®
Creatine Monohydrate
,
L-Glutamine
,
Creatine Alpha-Ketoglutarate
Creatine ethyl ester hydrochloride
Tri-Creatine-malate
, D-Ribose,
L-Arginine alpha-Ketoglutarate
,
L-Arginine Pyroglutamate
,
L-Arginine Aspartate
,
Taurine
,
Beta-Alanine
, L-Arginine Monohydrochloride,
L-Citrulline
,
L-Ornithine Alpha-Ketoglutarate
,
L-Tyrosine
,
Betaine
,
Caffeine Anhydrous
, Beetroot Extract, Cinnamon Bark Powder Extract,
Guarana Seed Extract
, Curcuma longa rhizome extract,
Ginkgo Biloba Leaf Extract
, Bioperine®), Acid (Citric Acid), Vitamins and Minerals (
Potassium Chloride
, Retinyl Acetate, D-alpha-Tocopheryl Acid Succinate,
Thiamin Hydrochloride
,
Nicotinic Acid
, Riboflavin,
Calcium D-Pantothenate
, Pyridoxine Hydrochloride,
D-Biotin
, Pteroylmonoglutamic Acid, Cyanocobalamin,
L-Ascorbic Acid
,
Calcium carbonate
,
Magnesium Citrate
,
Ferrous fumarate
, Zinc bisglycinate, Copper Citrate, Manganese citrate,
Potassium Iodide
,
Chromium picolinate
, Sodium Selenite), Natural Orange Flavor, Color (Beta-Carotene, Plain Caramel), Thickener (Glycerol), Sweeteners (Sucralose, Acesulfame K) .
Recommended Daily Serving On training days, take 1 serving (25g) 30-45 minutes prior to your workout. On non-training days, take 1 serving (25 g) in the morning. Instructions: To make one serving, mix 1 1/2 scoop (25 g) to 250 mL of cold water or any beverage of your choice. Scoop inside container.
May contain traces of milk, soy, egg and gluten. Food supplement. With sweeteners.
Warnings:
Contains caffeine (141 mg/daily serving). Not recommended for children or pregnant women. Caffeine sensitive individuals may experience the following symptoms including (but not limited to) restlessness, nervousness, tremors, headache, anxiety, palpitations, increased heart rate or difficulty sleeping. To avoid sleeplessness, don't take close to bedtime. Some individuals may experience a prickling sensation due to the beta-alanine content. Do not exceed the recommended daily dosage. This product should not replace a varied and balanced diet and a healthy lifestyle. Keep out of reach of children. Store tightly sealed in the original packaging in a cool, dry place, avoiding direct sunlight.
Please log in to continue!