Buy 100% Whey Hydro Isolate SS 2000 g and get 11.17 USD back as a coupon. Check here for the remaining rules of the coupon.
Conditions:
Exclusive for product range. View here;
Valid until 2018-02-21;
Limited to 2 use(s) per customer..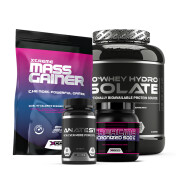 Buy: Advanced Mass Pack for the special price of 119.39 USD.
Buy
Xcore
100% Whey Hydro Isolate SS 2000 g
The purest whey protein with an unparalleled Amino Acid Profile and fortified with Essential Vitamins that will contribute to the growth and maintenance of your muscle mass.
Description
Comments (9725)
Best before end:
2019-09-30
Serving size:
1 heaping scoop(s) (31.0 g)
Servings per container:
64
6%
122 kcal = 510 kJ
Energy
Pantothenic Acid
31%
1.86 mg
iXPB - Isolate Peptide Fusion
26.35 g
Isolated Molecular Hydrolyzed Fusion of Whey Oligopeptide and Polypeptide Fractions (Precise Fusion of Beta-Lactoglobulin, Alpha-Lactalbumin, Immunoglobulin, BSA, Glycomacropeptides, Proteose-Peptones Complex (Lactoferrin, Lactoperoxidase, Relaxin, Lactollin, Beta-Microglobulin)) Hydrolysates obtained from iXPB (Whey Protein Isolate, Whey Protein Concentrate, Whey Protein Hydrolysate, BCAAs 2:1:1 (L-Leucine, L-Isoleucine, L-Valine), L-Glutamine)
**
DigeZyme® Enzyme Blend
31 mg
* Reference intake of an average adult (8400 kJ/ 2000 kcal).
** Reference intake not established.

Ingredients
iXPB - Isolated Peptide Fusion (85%) (
Whey Protein Isolate
,
Whey Protein Concentrate
,
Whey Protein Hydrolysate
,
BCAAs 2 1 1
(
L-Leucine
, L-Isoleucine, L-Valine),
L-Glutamine
),
Creatine Monohydrate
, Fat Reduced Cocoa Powder, Flavorings, Emulsifier (Creamer (Milk)), Thickeners (Guar Gum, Xanthan Gum), Sweetener (Sucralose), Emulsifier (
Soy Lecithin
),
Vitamins
(
L-Ascorbic Acid
,
DL-Alpha-Tocopheryl Acetate
,
Nicotinamide
, Retinyl Acetate,
Calcium D-Pantothenate
,
Cholecalciferol
, Pyridoxine Hydrochloride, Thiamine Hydrochloride, Riboflavin, Pteroylmonoglutamic Acid,
D-Biotin
, Cyanocobalamin), Salt, DigeZyme® Multi-Enzyme Complex (Alpha-Amylase, Neutral Protease, Cellulase, Lactase, Lipase) .
Recommended Daily Serving Consume 2 servings daily. Directions: To make one serving, add 1 heaping scoop (31 g) of powder to 200-220 ml (6.8-7.4 fl.oz.) of cold water in a shaker cup or blender. Mix vigorously for a few seconds. Scoop inside container.
Food supplement. Manufactured in Portugal
Allergy Alert:
Contains milk and soy. May contain traces of wheat and egg.
Warnings:
With sweetener. Due to the creatine content, this product is destined for adults only. This product should not replace a varied and balanced diet and a healthy lifestyle. Do not use while pregnant. Do not exceed the recommended daily dosage. Keep out of reach of children. Store in the original packaging in a dry place, avoiding excessive heat, moisture and direct sunlight.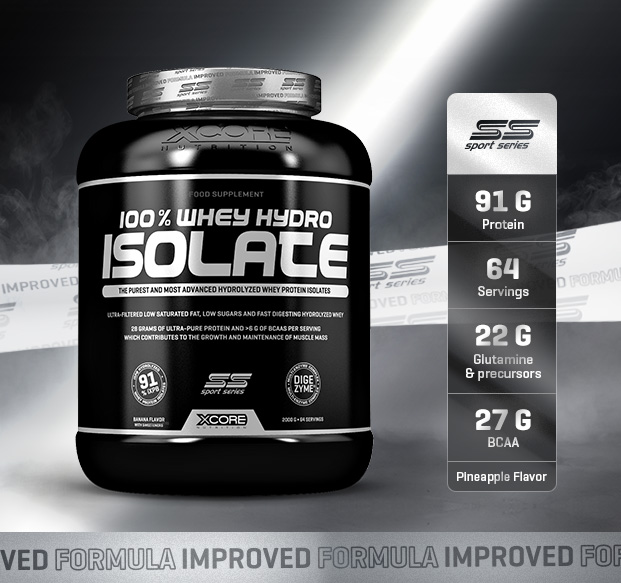 THE PUREST AND MOST ADVANCED HYDROLYZED WHEY PROTEIN ISOLATES
A few years back, we at Xcore Nutrition took the sports supplements world by storm with our revolutionary 100% Whey Hydro Isolate. Now, we've taken what was already exceptional to a whole new level of excellence and came up with the most advanced and purest hydrolyzed whey protein isolate yet: the brand-new 100% Whey Hydro Isolate Sport Series.
Ultra-Filtered, Low Saturated Fat, Low Sugars and Fast Digesting Hydrolyzed Wheys
27 g of Ultra-Pure Protein and More Than 6 g of BCAAs per Serving
Unparalleled Amino Acid Profile with Added Micronized BCAAs and L-Glutamine
Contributes to the Growth and Maintenance of Muscle Mass
Features DigeZyme® Multi-Enzyme Complex
Fortified with Essential Vitamins
THE BEST-TASTING PROTEIN SHAKE YOU'VE EVER HAD. THAT'S A PROMISE.
We've thought out every single detail for our Sport Series. Flavor is definitely one of them. We gathered the best flavor development specialists to take our already delicious flavors to a whole new level. So now, not only will you be fueling your gains with premium whey protein, you will also be truly enjoying every sip of your shake. And the best part is that you can enjoy the most mouth-watering flavor combinations with no added sugars or aspartame.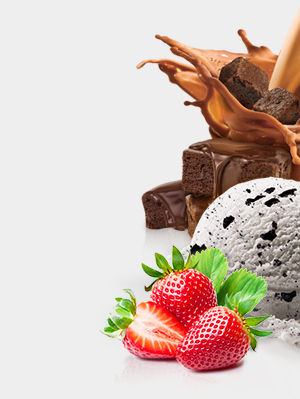 Each serving of 100% Whey Hydro Isolate Sport Series delivers up to 27 g of premium whey protein and more than 6 g of Branched-Chain Amino Acids to fuel your anabolic processes. To tell you the truth, our protein powder actually contains 27 g of BCAAs, the highest BCAA content per 100 g available on the market! For added support, especially during muscle recovery, this formula was strengthened with Glutamine. The resulting super high-protein product will definitely not only help you build more muscle, but also maintain that hard-earned mass, giving you the tools you need to get stronger every day. In addition to a complete amino acid profile, Xcore's 100% Whey Hydro Isolate now provides Creatine Monohydrate, as well as a comprehensive vitamin spectrum. In short, it's loaded with muscle fuel and true nutrition to take you to the next level and further.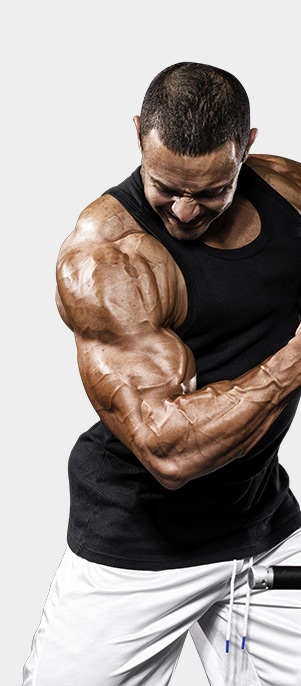 FORTIFIED WITH DIGEZYME® MULTI-ENZYME COMPLEX
100% Whey Hydro Isolate leads the ranking for digestibility. It features the patented complex DigeZyme®, a blend of digestive enzymes that includes amylase, protease, cellulase, lactase and lipase. These enzymes are resistant to gastric juices, helping break down protein during digestion and thus enhancing their utilization by the body and ultimately by your muscles. Plus, easier digestion will keep bloating at bay and reduce other gastrointestinal problems commonly associated with whey protein intake.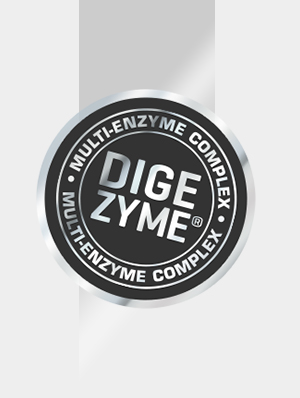 Enhanced iXPB Process
Like its predecessor, 100% Whey Hydro Isolate Sport Series has gone through the iXPB process, however, we've gone a little further and added a little extra something to our third step that truly sets it apart from competitors. But let us describe you this process step by step: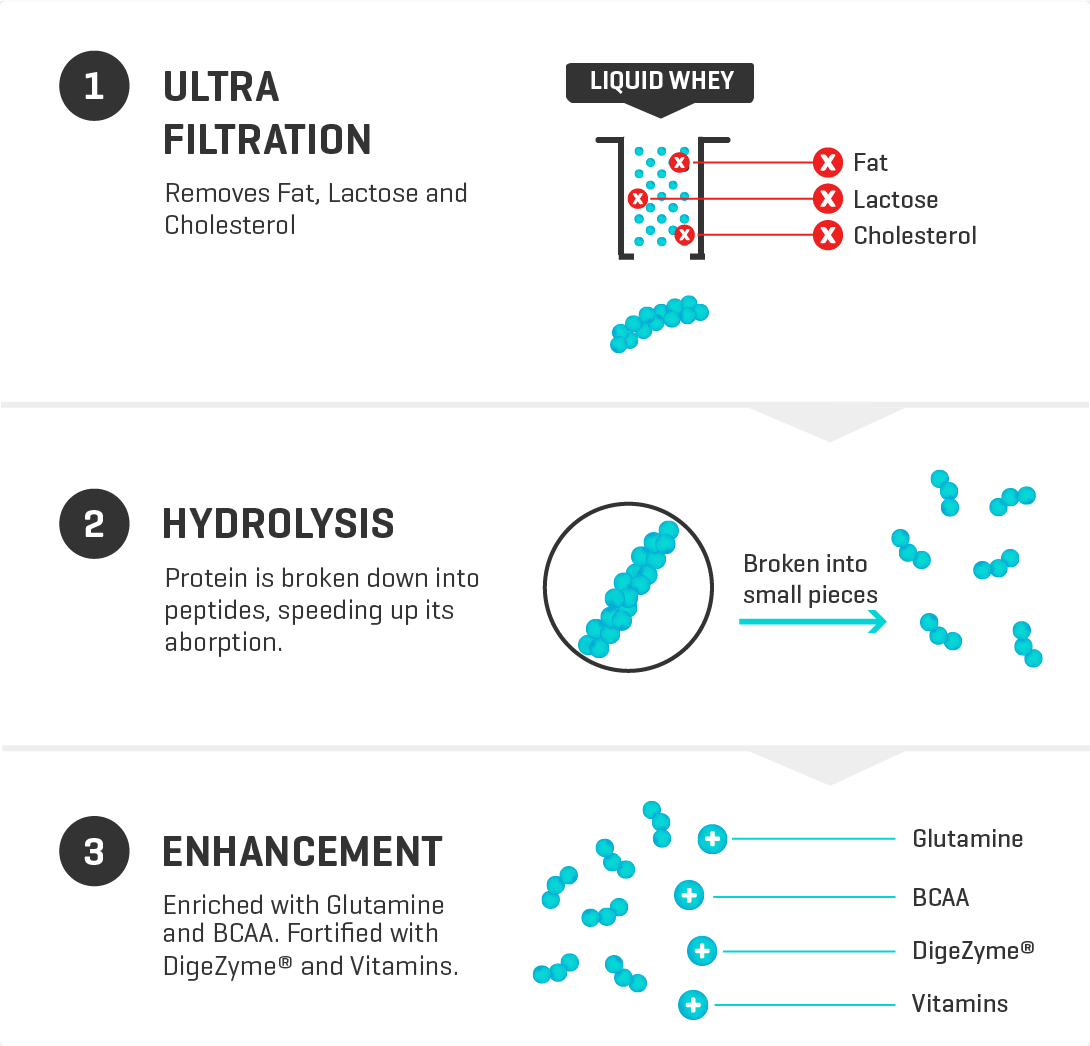 1. Ultra Filtration
We start by using the highest quality whey protein there is, and filter out most fats and sugars. Fats can compromise the digestive process because they get in the way of protein digestion and hinder your protein absorption rate. Combined, excessive fats and sugars hurt definition and prevent you from getting the lean, hard, muscular body you're working so hard to get. 100% Whey Hydro Isolate was thoroughly filtered, resulting in a pure whey product capable of giving you superior results in terms of digestibility and muscle definition. With virtually no sugars, 100% Whey Hydro Isolate is also the perfect whey protein to build lean muscle mass and help you achieve remarkable results during your cutting phase.
2. Hydrolysis
Once it has been isolated, it is hydrolyzed. This process makes 100% Whey Hydro Isolate completely bioavailable. Bioavailability concerns the efficiency and rate at which nutrients are metabolized in the body. 100% Whey Hydro Isolate is the most bioavailable product of its kind. Unlike other protein products, of which the poor bioavailability results in a significant waste of protein, 100% Whey Hydro Isolate is 100% bioavailable and efficient, meaning one scoop will get you more protein than any other whey protein powder.
3. Enhancement
After being hydrolyzed, 100% Whey Hydro Isolate is further enriched with micronized BCAAs and L-Glutamine, providing an unparalleled amino acid profile. Then, we fortify this already powerful formula with digestive enzymes from the Multi-Enzyme Complex DigeZyme® to enhance its utilization. Finally, for that extra edge, we add everyone's favorite Creatine Monohydrate and 12 essential Vitamins, including vitamins C and D, for a true nutritional power bomb.
EXCEPTIONALLY BIOAVAILABLE PROTEIN SOURCE
Unlike other protein powders, which blend several different protein sources in their formulas, 100% Whey Hydro Isolate Sport Series provides only the most highly available protein source: whey protein.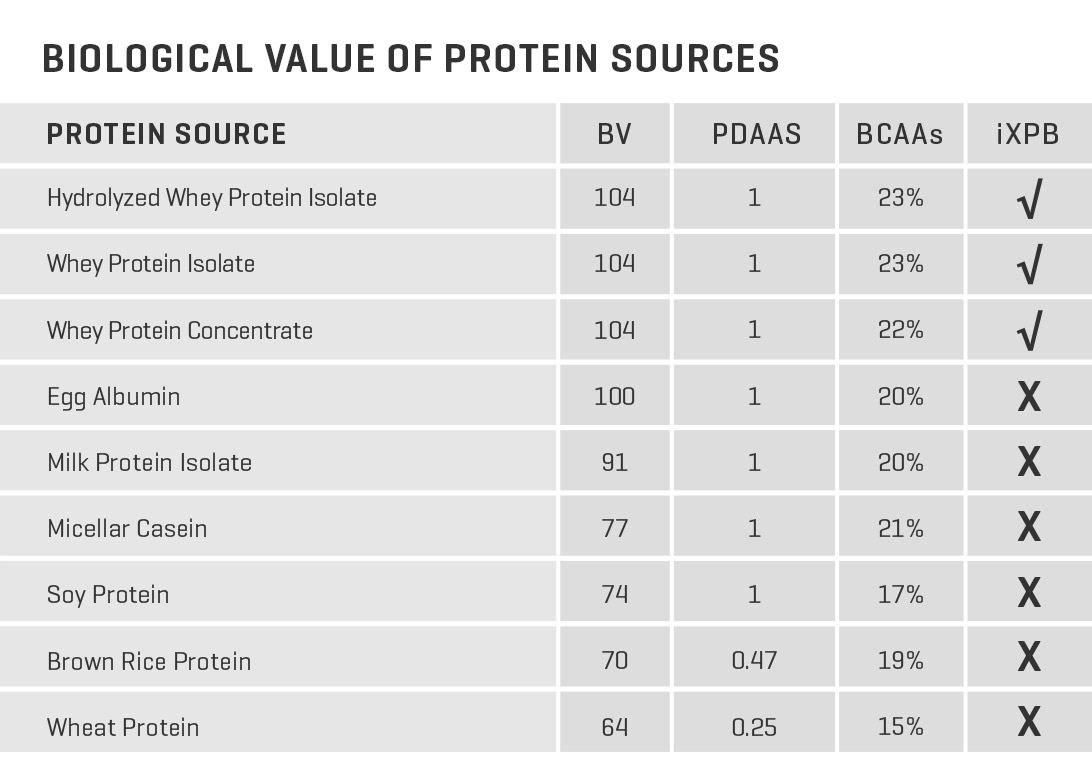 Protein and Oligopeptides:
• Beta-lactoglobulin - High in essential and branched-chain amino acids (BCAAs).
• Alpha-lactalbumin - Significant source of the essential amino acid tryptophan.
• Immunoglobulins - Rich in the amino acid glutamine.
• Lactoperoxidase - With enzymatic properties that support the breakdown of hydrogen peroxide.
• Glycomacropeptide - Supports overall serum amino acid concentrations, being relatively high in isoleucine and valine.
• Bovine serum albumin - Large-sized globular protein with a good profile of essential amino acids.
Note: We recommend you consult a physician or nutritionist if you have any questions regarding the use of this product. Nutritional information may vary depending on flavour.
* Images presented are merely for illustrative and promotional purposes only. The product's final image may be altered.
Please log in to continue!