Buy Mutant Mass 6.8 kg and get 10% discount on the indicated price. Check here for the remaining rules of the coupon.
Conditions:
Exclusive for product range. View here;
Valid until 2018-02-24;
Limited to 2 use(s) per customer..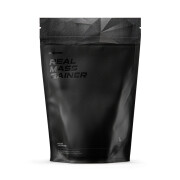 Mutant
Mutant Mass 6.8 kg
Mutant Mass – Muscle Mass Gainer
Description
Comments (827)
Best before end:
2020-02-28
Serving size:
4 scoop(s) (260.0 g)
Servings per container:
26
53%
1060 kcal = 4435 kJ
Energy
* Reference intake of an average adult (8400 kJ/ 2000 kcal).
** Reference intake not established.

Other Ingredients
Waxy maize
,
Maltodextrin
,
Whey Protein Concentrate
Whey Protein Matrix
(
Whey Protein Concentrate
,
Micellar Casein
,
Milk Protein Concentrate
,
Micellar Casein
,
Calcium Caseinate
,
Whey Protein Isolate
,
Whey Protein Hydrolysate
, Modified Milk Ingredient,
Egg Albumin
), Thickener (
Defatted Soybean
,
Coconut MCT Oil Powder
(Coconut oil, Corn Syrup,
Sodium caseinate
,
Dipotassium Phosphate
, Emulsifier (Mono- & Di-Glycerides), Anti-caking Agent (Silicon Dioxide), Preservative (Sulfur dioxide)), Preservative (Real Cookie Crumbs (
Enriched Wheat Flour
(Wheat Flour,
Niacin
,
Reduced Iron
, Vitamin B1 (Thiamine Mononitrate), Riboflavin, Folic Acid), Sugar, Canola Oil, Cocoa, Processed with alkali, Salt, Baking Soda),
Dextrose Monohydrate
,
Waxy Barley Starch
,
Glutamine Peptides
(from wheat), Thickeners (Guar Gum, Xanthan Gum), Sunflower Seeds,
Fructose
, Vanillin, Natural and Artificial Flavors, Sweetener (Sucralose), Cinnamon Powder, Cinnulin PF® (Aqueous Cinnamon Extract), Inulin,
Flax Seed Powder
,
Colostrum
, Whole Oat Flour, Emulsifier (
Soy Lecithin
) .
Directions: Mix 4 scoops (260 g) with 455-910 ml (16-32 fl.oz.) of water or milk and shake. You can also enjoy 2 or even 3 shakes a day. Our favourite way is to drink one shake first thing in the morning, and a second immediately after training; or simply enjoy your shakes whenever you want an extra shot of protein.
Warnings:
Keep out of reach of children. Consult a physician prior to use if you have any medical condition.
Allergy Alert:
This product contains ingredients from milk, wheat, soy, corn, flax, coconut, sunflower seed, cinnamon and egg. Made on machinery that also handles powder ingredients derived from and/or that contain peanuts, tree nuts, seeds, and sulfites
Glutamine & Glutamic Acid
9.80 g
Mutant Mass – Muscle Mass Gainer
A New Breed of Mass Gainer
Spawned from countless hours of research and testing on some of the freakiest mass monsters on the planet, MUTANT MASS is a revolutionary, top secret experimental muscle mass gainer that delivers extreme, abnormal mass building results. If you're destroying the iron in the gym to build massive, MUTANT-like proportions of skin stretching muscle and inhuman strength then MUTANT MASS is a must for your mass building arsenal. Every powerful, military strength serving of MUTANT MASS delivers a potent dose of anabolic macronutrients – including exclusive MUTANT PRO® – to shift your body into a state of virtually limitless growth.
Lab Test Shows Shocking Growth
The supplement scientists behind the bleeding-edge MUTANT MASS formula know that building monstrous mass is serious business and you don't have time or money to waste on average, so-called effective mass gainers. So they did their homework and made it their mandate to construct a frighteningly powerful formula, and the results they uncovered were shocking. In an 8-week mass building lab study, a group of researchers tested an experimental formula just like MUTANT MASS and were amazed at its ability to induce significant gains in muscle size and strength! Test subjects using this experimental formula twice a day with their training programs experienced significant gains in lean muscle mass and strength. The researchers even recorded significant increases in muscle size directly on their chest, arms, and legs! The best part is, these guys gained all that mass without even gaining any significant amounts of body fat!
Leave Humanity Behind
Most people think you're crazy, some even call you a MUTANT! But that's ok, you're not anything like them and you never will be. You are focused and driven. You hit the weights like a man possessed, day in and day out, because you won't settle for being average. You sacrifice daily to be superior and you should demand the same expectations from the supplements you use. You want results – period! The same mega-dense macronutrients delivered in every dose of MUTANT MASS have been documented in research experiments to increase plasma insulin levels, growth hormone and muscle protein synthesis activation when taken soon after your hardcore weight-training session. Increased mass building hormones along with potent calorie-dense macronutrients from MUTANT MASS is the scientific solution to massive gains in muscle size and strength as fast as possible! Don't settle for mainstream formulas that fall short of your high expectations, get on MUTANT MASS today and leave humanity behind!
Mutant Mass - Enhanced for Massive Results
MUTANT MASS is formulated to deliver everything you need to build MUTANT muscle size and iron-smashing strength. One of the true mass building formula innovations of our time, MUTANT MASS exceeds all user expectations for producing results in record time. Just take one look at this super-enhanced experimental formula and you'll see why.
Each precise serving provides the highest 1,060 ULTRA-DENSE MASS BUILDING CALORIES
Engineered with a COMPLETE BLEND OF HIGH-QUALITY PROTEIN SOURCES
Bioactive high-protein formula with INCREDIBLE-TASTING FLAVORS
Ultra-advanced CLEAN CARB™ delivers novel Waxy Maize and multiple high-quality mass building carbohydrates with less sugars
Enhanced with LIPOTHERM™ – an exclusive blend consisting of select nutrient-rich EFAs and MCT sport oils
Mutant Mass highlights:
Assembled for absurd gains in muscle mass
Over 1,000 growth-invoking calories per serving
Full experimental dose of protein, clean carbs & critical fats
Addictive tasting formula that mixes easily
Note: We recommend you consult a physician or nutritionist if you have any questions regarding the use of this product. Nutritional information may vary depending on flavour.
* Images presented are merely for illustrative and promotional purposes only. The product's final image may be altered.
Please log in to continue!