Buy Massive Weight Gainer 4000 g and get 10% discount on the indicated price. Check here for the remaining rules of the coupon.
Conditions:
Exclusive for product range. View here;
Valid until 2018-02-23;
Limited to 2 use(s) per customer..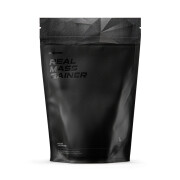 ESN
Massive Weight Gainer 4000 g
The ESN Massive Weight Gainer is a balanced, high quality carbohydrate-protein combination.
Best before end:
2019-09-30
Serving size:
1 serving(s) (150.0 g)
Servings per container:
26
26%
523 kcal = 2188 kJ
Energy
* Reference intake of an average adult (8400 kJ/ 2000 kcal).
** Reference intake not established.

Ingredients
Carbohydrate Blend
(88%) (Wholegrain rice flour, Whole Oat Flour, Buckwheat flour, Kamut flour, Quinoa flour),
Whey Protein Concentrate
, Sunflower Oil Powder, Flavours, Salt, Sweeteners (
Acesulfame Potassium
, Sodium cyclamate, Sucralose, Sodium saccharine), Emulsifier (
Soy Lecithin
) .
Suggested Use: Mix 150 g of powder with 300 ml of water. Take 1 serving per day.
Warnings:
Store in a cool, dry place, away from direct sunlight.
Allergy Alert:
Contains milk and soy. Contains gluten.
ESN Massive Weight Gainer – Naturally Long-Lasting Energy and Nutrient Release
The ESN Massive Weight Gainer is a balanced, high quality carbohydrate-protein combination.
It is the first multi-component gainer, whose 5 carbohydrates suppliers consist of genuine and full-fledged natural products.
Full grain rice flour, whole grain oatmeal and the complete flours of beech and Khorasan wheat (Kamut) as well as ground quinoa seeds guarantee a long-lasting and successive release of nutrients and energy.
Supports the metabolism and facilitates the digestion process.
ESN Massive Weight Gainer Highlights:
Low glycemic index
Valuable fiber
Naturally long-lasting energy release
Naturally long-lasting nutrient release
Many naturally occurring vitamins and minerals
High quality whey protein concentrate
Carbohydrates by natural products
Delicious and wholesome taste
Note: We recommend you consult a physician or nutritionist if you have any questions regarding the use of this product. Nutritional information may vary depending on flavour.
* Images presented are merely for illustrative and promotional purposes only. The product's final image may be altered.
Please log in to continue!