WHAT CAN YOU WIN?
---
We've got the greatest prize for your comeback
1740.00 USD in Prozis brand supplements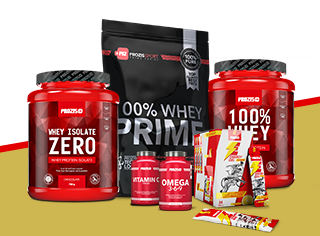 MEET THE PARTICIPANTS
---
Vote for your favourites
ANY QUESTIONS?
---
Find out all you need to know
How can I participate?
To participate in the "The Great Comeback Challenge", all you need to do is shoot an up to 10-second video, where you tell us your motivation to come back, and upload it to the Prozis website until September 30th 2017. To do this, you will need to register online on the Prozis site . The video will then be available for voting by all Prozis customers.
What sort of video should I shoot?
You should shoot an up to 10-second video where you tell what motivates you to come back and continue to pursue the best version of yourself, always in the spirit of the "Exceed Yourself". Only one video per participant is allowed.
How are the winners selected?
Selecting the winners of the "The Great Comeback Challenge" is done through voting, which is open to public. Until September 30th, the video you have submitted for the challenge is first validated internally, and then published so that all registered customers, providing they have placed at least one order, can place their votes. Then, until October 2nd, 6 winners will be announced, one for each eligible language: English (EN), Portuguese (PT), Spanish (ES), French (FR), Italian (IT), and German (DE).
What can I win?
1740.00 USD in Prozis brand supplements, as store credit divided over 12 monthly vouchers worth 149.00 USD each. The prize is strictly personal and untransferable and cannot be exchanged for another prize, money or a bank cheque, nor can it be subject to alteration or compensation at the request of the winner.
Who can vote?
All persons with an account at the online Prozis store and a history with at least one order can vote on the videos of the participants. Each of the voters can vote on multiple videos, but can only place one vote per video. To make it possible for your friends to vote for you and help you win, you can share your video on your social network profiles via the Prozis website.
What are the conditions to be able to enjoy the prize?
To receive the prize you have been awarded, you will have to give an interview to Prozis and authorise its publication.