Buy ProCLA Effect 120 softgels and find out what special discount we have for you.
VIP-50
Exclusive for product range. View here
Valid until 2018-08-21
Limited to 2 use(s) per customer.
Buy ProCLA Effect 120 softgels and get 10% discount on the indicated price.
SAVE-10
Exclusive for product range. View here
Valid until 2018-08-21
Limited to 2 use(s) per customer.
Buy ProCLA Effect 120 softgels and receive one of the offers we have for you, with orders of over 75.00 USD.
MILK
Exclusive for product range. View here
On orders containing over 75.00 USD in marked products
Valid until 2018-08-25
Bodyraise
ProCLA Effect 120 softgels
ProCLA Effect by BodyRaise combines ProCLA + L-Carnitine
Description
Nutritional Info
Comments (815)
ProCla Effect
is the new supplement by
BodyRaise
which combines 2 natural
weight loss
formulas with excellent results. They maximize
weight loss
in the healthiest way for the body. It is a stimulant free formula and may be consumed by the majority of people.
CLA is a natural supplement that reduces body fat and defines muscle mass. CLA decreases the bodies mechanism to store fat through the blockage of certain enzymes which reach the fat cells and at the same time CLA promotes the conversion of fat deposits into energy.

CLA helps to prevent the yo-yo effect (constant weight gain after traditional diets). It also acts as an anti oxidant providing positive effects in the immune system and in the decrease of LDL (bad cholesterol). The action CLA has in fighting body fat are the following:

Decrease in accumulated and absorbed fat after meals by inhibition of lipoprotein lipase intake. This enzyme is essential to facilitate the entry of triglycerides in the cells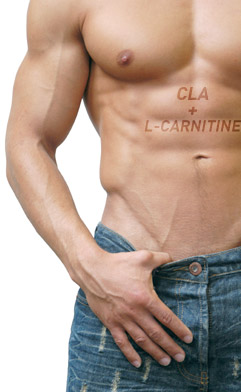 Increase in the usage of body fat. This process takes place in the mitochondria of the muscle cell, by CPT (Carnitine Palmitoyltransferase) enzyme stimulation. Since the fat hasn't entered the cell, as seen above, it will be directed to the muscle through the blood, where it will be burn.

Decrease in the number of fat cells in the body. CLA inhibits the differentiation between pre-adipocytes and adipocytes.

A recent study, over a period of one year, with 180 overweight women and men showed that supplementing with 3,4g of CLA, besides being safe, led to a reduction of 8.7% body fat, without altering way of life or eating habits. Another study done in Sweden showed CLA's capability of reducing abdominal fat in particular. Only in 4 weeks, obese men (with fat concentrated in the abdominal are), without following any diet, lost 2% of body fat. CLA reduces body fat in obese and overweight people. In a study involving 60 people, different servings of CLA where observed in 5 different groups. After 12 weeks of treatment a significant amount of body fat was lost in the groups which took 3,4g and 6,8g of CLA. The conclusion of the study was that even if the serving of CLA is 3,4g you will notice a change in body fat reduction. Those studies which clearly prove a reduction in body fat used CLA supplements concentrated in the two active isomers.

ProCla contains exclusively Conjugated Linoleic Acid, a polysaturated fatty acid which comes from Safflower oil (Carthamus tinctorius).
What is CLA?
It is an essential fatty acid called conjugated linoleic acid, from the omega 6 family which exists in dairy products, meat and in some vegetable sources, for example, the safflower plant.
CLA is a mixture of different isomers. Two of the main CLA isomers are present in some food and are beneficial to our health especially in improving our body's composition.
Nowadays the tendency people have is to reduce fatty meat consumption and with the procedure of skimming milk, we lose the majority of CLA, only small traces can be found in food. It has been calculated that Europeans ingest about 150-400mg/day, amounts which are below recommended consumption to be beneficial to our health.
L-Carnitine is an amino acid that helps transform nutrients into energy. It acts as an essential Lipids metabolism co-factor, as it makes the delivery of fatty acids into the mitochondria easier, where beta-oxidation , Krebs Cycle and oxidative phosphorylation take place. Carnitine is, therefore, a fat eliminator: it captures the fat while in circulation and places it inside the mitochondria, where it will be used as an energy source, saving glycogen. Consequently, Carnitine's main function is to improve the use of fat, so as to obtain more energy.
It has been proven that Carnitine reduces fatty acid accumulation in tissues and blood in people suffering from cardiovascular problems, chronic alcoholism or Carnitine deficiency.
In several studies, treatments with Carnitine increased the use of fatty acids in humans and animals, this helps weight reduction.
ProCla Effect Main Benefits:
Reduces body fat;
Decreases the accumulation of fat;
Avoids gaining weight after using conventional diets;
Increases the usage of stored fat;
Decreases the number of fat cells in the body;
Increases muscle tone;
Improves your Immune System.
Note: We recommend you consult a physician or nutritionist if you have any questions regarding the use of this product. Nutritional information may vary depending on flavour.
* Images presented are merely for illustrative and promotional purposes only. The product's final image may be altered.
Best before end:
2020-09-30
Serving size:
2 softgel(s)
Servings per container:
60
* Reference intake of an average adult (8400 kJ/ 2000 kcal).
** Reference intake not established.

Recommended Use: Oral Administration. Take 2 capsules daily, one at lunch and another at dinner, with a glass of water.
Food supplement.
Warnings:
Do not exceed the recommended daily dosage. This product is not intended to diagnose, treat, cure, or prevent any disease. This product should not replace a varied and balanced diet and a healthy lifestyle. The colour Allura Red may have an adverse effect on activity and attention in children. Keep out of reach of children. Store in a cool, dry place, away from direct sunlight. Due to the lack of studies confirming the safety of use in case of pregnancy and lactation, this supplement should not be used in these situations, unless prescribed by a doctor. The product should not be used in case of hypersensitivity or allergy to any of the ingredients in the formula.
Please log in to continue!