MuscKit®
Musckit® - Arm Blaster
Musckit's Arm Blaster – Maximum isolation! Maximum performance!
Description
Comments (254)
FAQ (0)
Arm Blaster
Maximum Isolation! Maximum Performance!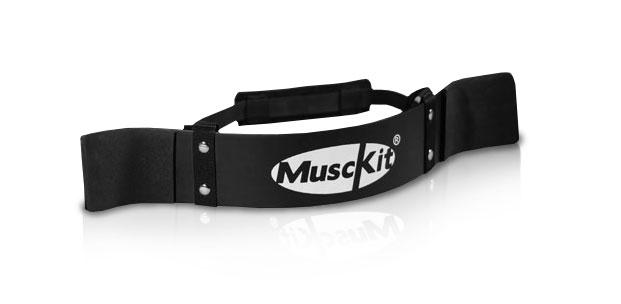 Back in the 70's, the golden age of bodybuilding, the legendary Arnold Schwarzenegger popularized a piece of equipment that helped him build the massive arms that had the world in awe.
The Arm Blaster, as it was dubbed, is an horizontal structure that the athlete hangs over his shoulders and around the neck, used to stabilize the torso, completely isolating the biceps and enabling you to execute arm curls with perfect form.
One of the main problems for anyone who has ever attempted to train his biceps is the lack of isolation of that muscle. During the biceps curl motion, athletes typically tend to use their shoulders to assist them with the effort. Another very common error when performing this exercise is using the momentum given by swinging the back, to help bringing the weight up.
Although seemingly harmless, these subtle errors constitute a decisive form of cheating that takes away the tension from your biceps and shifts it towards other muscle groups you are not targeting. Thus, you end up not challenging the biceps as you should, causing the muscle never to grow to its full potential.
Musckit's Arm Blaster makes sure the athlete is performing arm curls with proper form, decreasing the risk of injury and maximizing the growth of that muscle group. The Arm Blaster keeps your torso stable, and prevents the arms from swinging or the shoulders from contributing to bring the weight up.
Musckit's Arm Blaster is the mandatory piece of equipment for anyone who wants to maximize the development of his biceps.
Musckit's Arm Blaster highlights:
Isolates the biceps
Stabilizes the torse
Maximum biceps development
Decreases the risk of injury
Highly resistant materials
Easy to carry
* Images presented are merely for illustrative and promotional purposes only. The product's final image may be altered.
Find the answers to your questions in our FAQ.
Ask a question
Find the answer to your questions about this product in our FAQ.
Please note that any nutritional advice must be given by your physician or nutritionist!
Fill in the form and send us a message:
Important: You may receive an e-mail after filling in this form
Cancel
Your message has been sent. Thank you for contacting us, please wait for a response!
Please log in to continue!