Buy Kaboom - Keep Calm 15 Chewable tabs and get €1.40 back as a coupon.
STASH-35
Exclusive for product range. View here
Valid until 2019-07-16
Limited to 2 use(s) per customer.
Buy Kaboom - Keep Calm 15 Chewable tabs and get 25% discount on the indicated price.
SAVE-25
Exclusive for product range. View here
Valid until 2019-07-16
Limited to 2 use(s) per customer.
Buy Kaboom - Keep Calm 15 Chewable tabs and receive one of the offers we have for you, with orders of over €40.00.
FREE-BOTTLE
Exclusive for product range. View here
On orders containing over €40.00 in marked products
Valid until 2019-07-16
Description
Nutritional Info
Comments (55)
FAQ (0)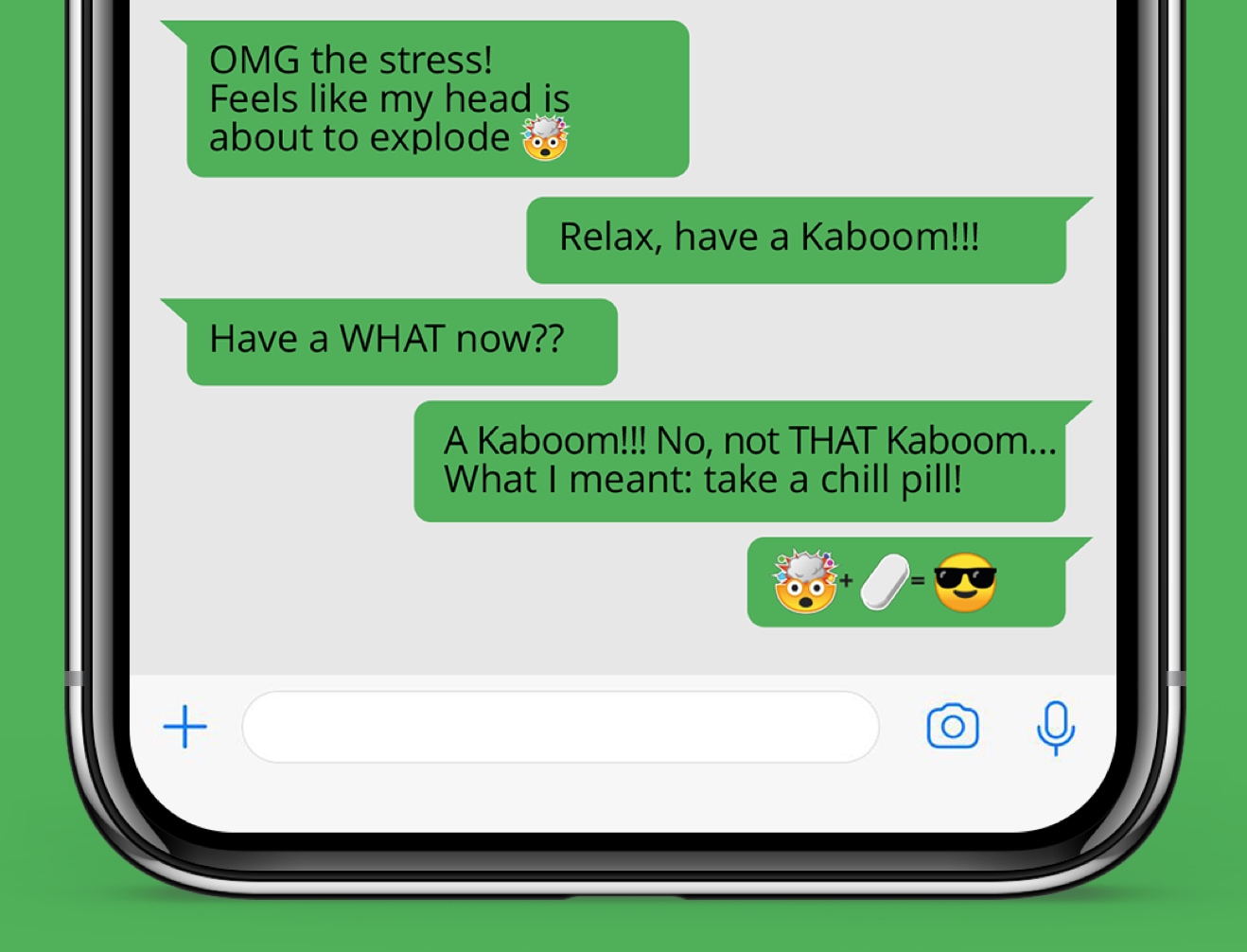 Unwind your mind
Keep calm and kaboom on
Heads have their limits. Whether it's because of work, traffic, relationships, family troubles or any other possible source of stress, everybody knows what it feels like when there's too much going on for one head to handle. The thoughts just won't stop racing through your mind, from don't-be-late reminders and unfinished shopping lists to frustration with bigger issues in life.
Such thoughts can leave you frustrated, irritated, angry and impatient. However, you do have a choice: instead of hoarding these thoughts until your head goes KABOOM!!!, you can try to take a step back and put things in perspective. Although this may not be easy, it's far from impossible if you're in the right mindset. Especially formulated to help you stay on top of stressful situations, here is Prozis Kaboom.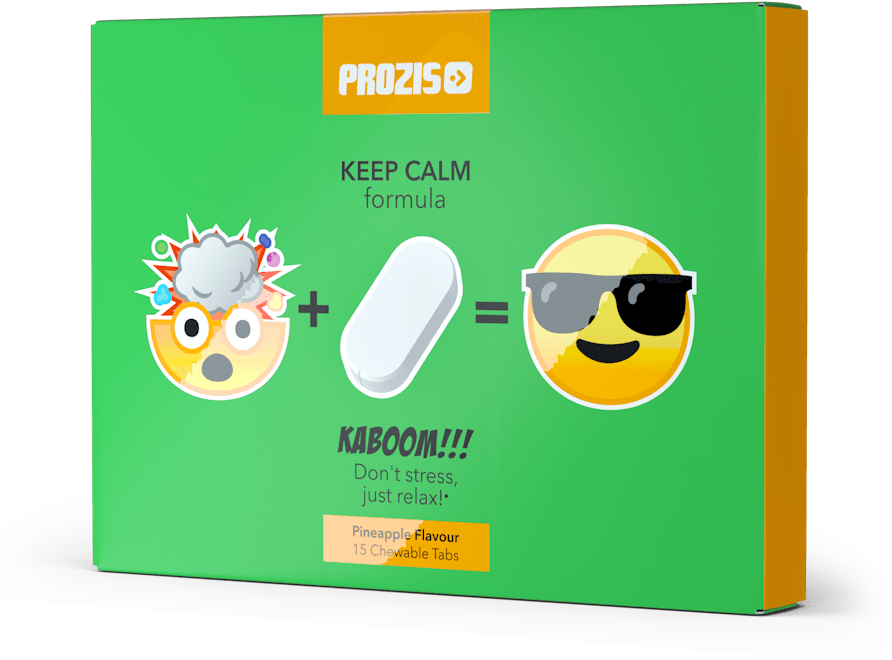 Relax with a bang
Prozis Kaboom is part of a range of supplements developed to suit the diverse needs of the everyday person, athlete or not, with an emphasis on an active, healthy lifestyle, and on supplementing an already varied and balanced diet.
Kaboom combines multiple nutrients known for their positive effects on psychological function, tiredness and the nervous system. Besides the three precious vitamins Niacin, Vitamin B6 and Pantothenic Acid, it contains the essential amino acid Tryptophan. It comes in the form of chewable tabs with a nice and tangy pineapple flavor. The regular serving size is 1 chew tab, but as none of the active ingredients are excessively dosed, you're welcome to take up to 2 per day.
Chew on this!
The taste and texture of the chewable tabs provide a candy-like experience, making them an authentic delight to take! On top of that, chewable means handy. Unlike hard tablets, which typically require water to be washed down, you can simply take a tab while on the go, wherever you are.
Three amigos
Kaboom features a meticulously crafted multi-ingredient formula to help achieve stress relief and peace of mind. Niacin, Pantothenic Acid and Vitamin B6 are the three vitamins included in its composition:
Niacin, Pantothenic Acid and Vitamin B6

contribute to normal energy-yielding metabolism, and to the reduction of tiredness and fatigue.

contribute to normal psychological function, and to normal functioning of the nervous system.

contributes to normal mental performance, and to the normal synthesis and metabolism of steroid hormones, vitamin D and certain neurotransmitters.

contributes to the normal function of the immune system, and to the regulation of hormonal activity.
Clear your head
In addition to vitamins, Kaboom also contains Tryptophan, an essential amino acid occurring in foods such as nuts, soy and meat. It is considered essential because humans are unable to synthesize it, meaning that Tryptophan can only be obtained from food or supplements. The body uses this amino acid as a precursor to the important neurotransmitter serotonin.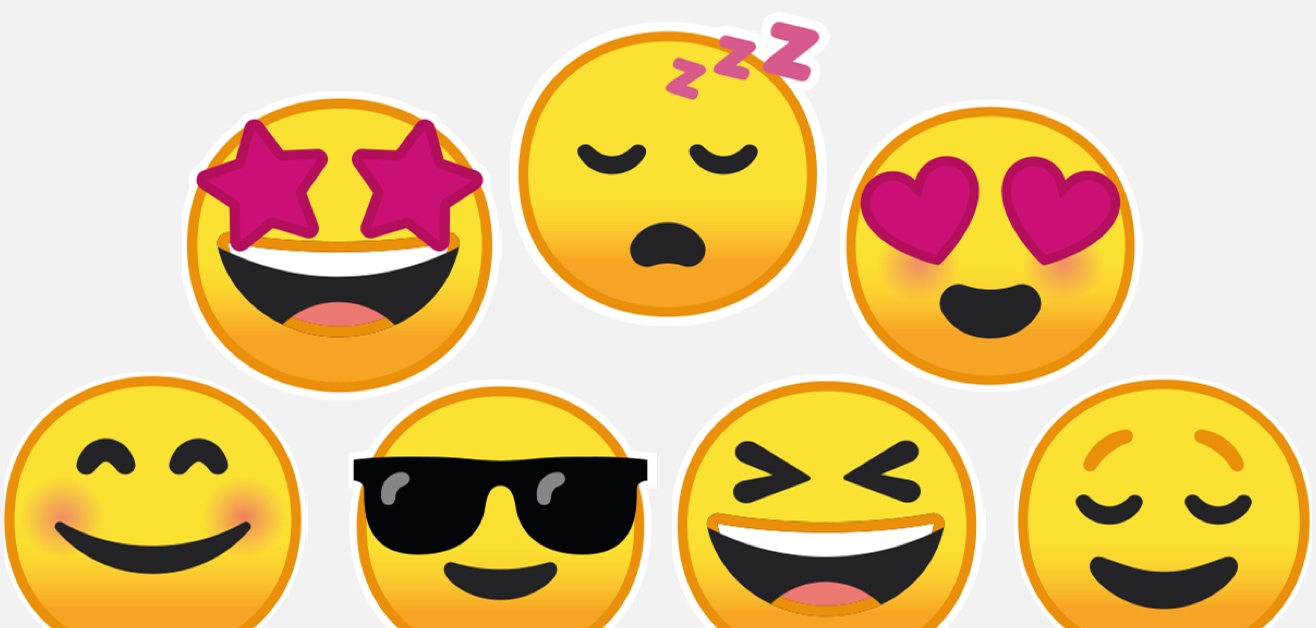 Prozis Kaboom highlights:
Formulated to support psychological function and reduce fatigue
Synergistic multi-ingredient formula
Meets the NRV of 3 vitamins with one daily intake
Niacin, Pantothenic Acid, Vitamin B6 and Tryptophan
Note: We recommend you consult a physician or nutritionist if you have any questions regarding the use of this product. Nutritional information may vary depending on flavour.
* Images presented are merely for illustrative and promotional purposes only. The product's final image may be altered.
Best before end:
2020-10-31
Serving size:
2 chewable(s)
Servings per container:
7
Pantothenic Acid
100%
6 mg
* Reference intake of an average adult (8400 kJ/ 2000 kcal).
** Reference intake not established.

Recommended Daily Portion: Chew, or let dissolve in your mouth, 2 tablets per day.
Food supplement.
Warnings:
With sugar and sweetener. Do not exceed the Recommended Daily Portion. Not recommended for pregnant or breastfeeding women, or for people undergoing treatment with antidepressants or who suffer from renal failure. This product should not replace a varied and balanced diet and a healthy lifestyle. Keep out of reach of children. Store tightly sealed in the original packaging in a cool, dry place, avoiding direct sunlight.
Find the answers to your questions in our FAQ.
Ask a question
Find the answer to your questions about this product in our FAQ.
Please note that any nutritional advice must be given by your physician or nutritionist!
Fill in the form and send us a message:
Important: You may receive an e-mail after filling in this form
Cancel
Your message has been sent. Thank you for contacting us, please wait for a response!
Prozis
Kaboom - Keep Calm 15 Chewable tabs
Is stress getting the better of you? Try Prozis Kaboom, a synergistic multi-ingredient formula to help you relieve tension. Unwind your mind!

Kaboom - Keep Calm 15 Chewable tabs
Please log in to continue!