Buy TR3 Brutal Shorts Woman and get 30% discount on the indicated price.
STOCK-OFF
Exclusive for product range. View here
Valid until 2018-11-20
Exclusive for product range. View here
On orders containing over €69.00 in marked products
Valid until 2018-10-18
Available in stock
Free shipping
Description
Info and Care
Comments (0)
Questions & Answers (0)
Compressport TR3 Brutal Shorts Woman – Brutal Shorts Woman stand for real muscle support. They wrap and compresses where necessary and strengthen thighs and glutes. A mix of technology and know-how guarantees multi-degree compression, fine ultra-light fibres, and exceptional comfort.
In the feminine range of triathlon wear comes the TR3 Brutal Shorts. Wrapping, compressing strategic areas and strengthening your thighs, this women's trisuit guarantees real support and postural alignment, provides shock absorption and limits muscle vibrations. Muscle wear and tear is minimised, performance is enhanced and recovery is accelerated.
TECHNOLOGIES:
MASSAGING-FIBER: Every movement triggers a micro massage, providing a feeling of well-being and lightness. Patented fibre.
LUNAR POCKET: This clever opening doubles up as a pocket for gels, energy bars and even your smartphone! The convenient ergonomic design is great for trail running, avoiding unnecessary movement when reaching for food, even during fast downhill running or hard ascents.
SHOCK ABSORBER: The 360° compression dampens the "shock wave" effect on muscles, veins and joints.
V-BELT: Maximum comfort of the abdominal muscles while providing great support and shock absorption in the fatigue areas of the lower back. The V Shape of the belt will prevent any pressure on the stomach for optimal comfort.
ULTRALIGHT: Your COMPRESSPORT® does not retain water and will remain feather-light in all conditions.
TRIATHLONPAD: Inside, the ultra-thin Triathlon pad (exclusive COMPRESSPORT® design) absorbs shocks when cycling and running.
Compressport TR3 Brutal Shorts Woman Product Specifications:
An exclusive sewing technique makes it comfortable to wear and sturdy, thus preventing any chafing. Maximum grip guaranteed on the saddle.
While compressing strategic areas, it minimises pain and injuries, making recovery easier and faster.
Targeted compression prevents the build-up of toxins, oxygenates the blood and activates blood circulation.
An easily accessible pocket, where you can store your gels, energy tablets or smartphone, with an ergonomic design to get the job done.
A V-shape belt secures the abdominal area and minimises lower back fatigue.
The V-Shape stabilises the belt, relieving pressure on the stomach. Postural alignment of the hips and buttocks will provide balance throughout all activities.
Your Brutal Shorts breathe with you through colds and chills and, by doing so, helps you save energy.
You will find an ultra-slim pad that prevents discomfort and fits your shape perfectly inside these technical, comfortable compression shorts.
Once exercise ends, Brutal Shorts will ease your recovery as they help in the release of lactic acid.
Once lactic acids are eliminated, muscles and joints don't get inflamed and aches are reduced. Recovery is complete!
SIZE GUIDE: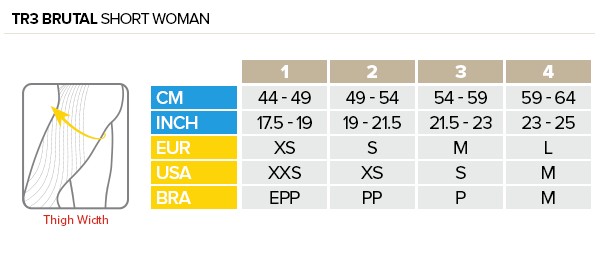 Compressport TR3 Brutal Shorts Woman stand for real muscle support.
Made in EU
Find the answers to your questions in our FAQ.
Ask a question
Fill in the form and send us a message:
Important: You may receive an e-mail after filling in this form
Cancel
Your message has been sent. Thank you for contacting us, please wait for a response!
Please log in to continue!