Køb Yeeellow - Vita Sun 15 Chewable tabs, og få 15% rabat på den anførte pris.
SAVE-15
Kan kun bruges på produktserien. Vis her
Gyldig indtil 2019-05-23
Begrænset til 2 anvendelse(r) per kunde.
Beskrivelse
Nutritional Info
Kommentarer (28)
FAQ (0)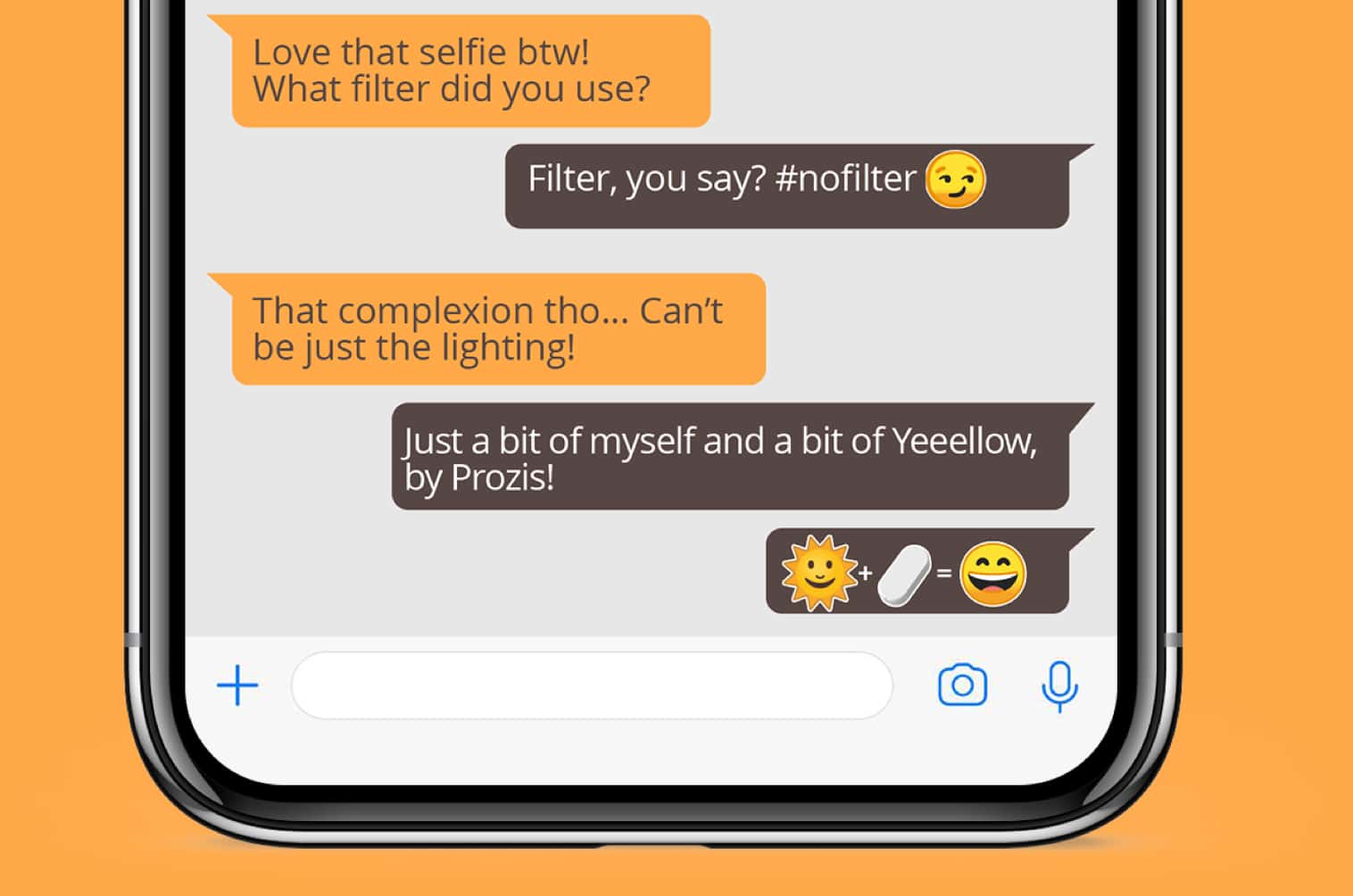 Sunshine on a cloudy day
Complexion complex
"Are you alright? You look like you've seen a ghost!" If anyone's ever said this to you even though you weren't feeling ill or anything, you know how annoying that can be. There's absolutely nothing wrong with your skin, except that it apparently prompts people to ask you this kind of question. If anything, it makes you feel dull-looking. If that describes you, and if you want some more radiance in your life and the sun to shine a bit under your skin, that should be possible, shouldn't it?
Prozis Yeeellow is the perfect supplement to get you that inner sunshine you need and deserve so much. It features Vitamin A as well as the carotenoids beta-Carotene and Lycopene, eager to brighten up your life so that you can greet each morning with a heartfelt "Yeeellow!"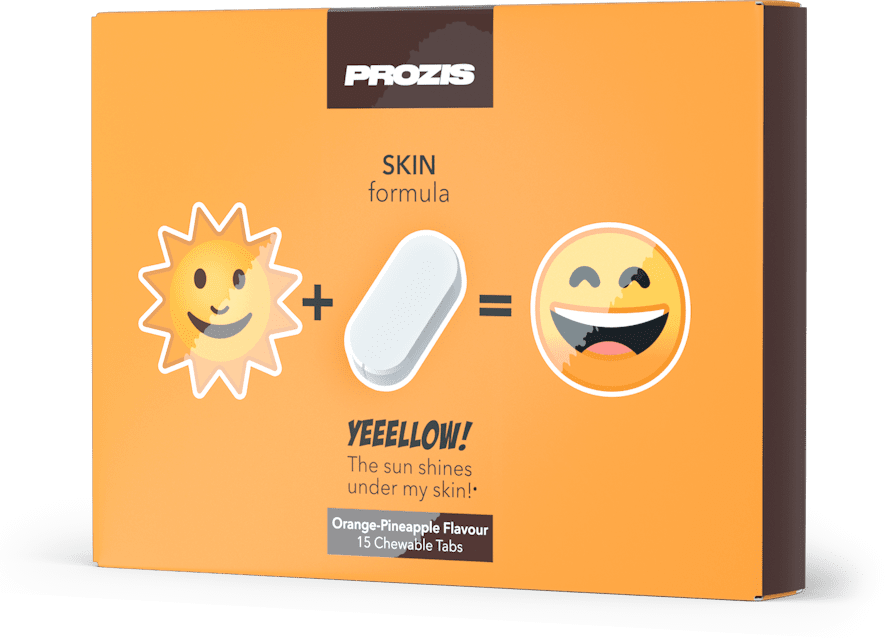 The Yeeellow brick road
Prozis Yeeellow is part of a range of supplements developed to suit the diverse needs of the everyday person, athlete or not, with an emphasis on an active, healthy lifestyle, and on supplementing an already varied and balanced diet.
Yeeellow features Vitamin A that contributes to normal skin function, and also two important extras in the form of beta-Carotene and Lycopene. It comes in the form of chewable tabs with a pleasant orange-pineapple flavor. With none of the ingredients supplied in extreme concentrations, you are welcome to take up to three tablets per day.
Chew on this!
The taste and texture of the chewable tabs provide a candy-like experience, making them an authentic delight to take! On top of that, chewable means handy. Unlike hard tablets, which typically require water to be washed down, you can simply take a tab while on the go, wherever you are.
Bring the sun inside
The focus of the Vitamin A supplied in Yeeellow lies on skin function, but the vitamin itself is good for much more than that:
contributes to the normal function of skin, the normal function of the immune system, normal iron metabolism, the maintenance of normal vision and normal mucous membranes, and also plays a role in the process of cell specialization.
Let it shine
The two remaining ingredients are beta-Carotene and Lycopene. Both of these compounds belong to the class of carotenes, which are essentially photosynthetic pigments that make it possible for plants to transform light into the energy they need to live and grow. They are also used as a natural food coloring.
Something noteworthy about beta-Carotene is that it can be converted by the human body into Vitamin A. For this reason, it is also known as a "Provitamin A carotenoid".
beta-Carotene is also what gives carrots their orange color, and Lycopene is responsible for the typical red hue of tomatoes, the same way chlorophyll – another well-known pigment – provides the green color of most plant leaves. So the addition of an orange and reddish pigment to a supplement named "Yeeellow" was simply the right thing to do, really...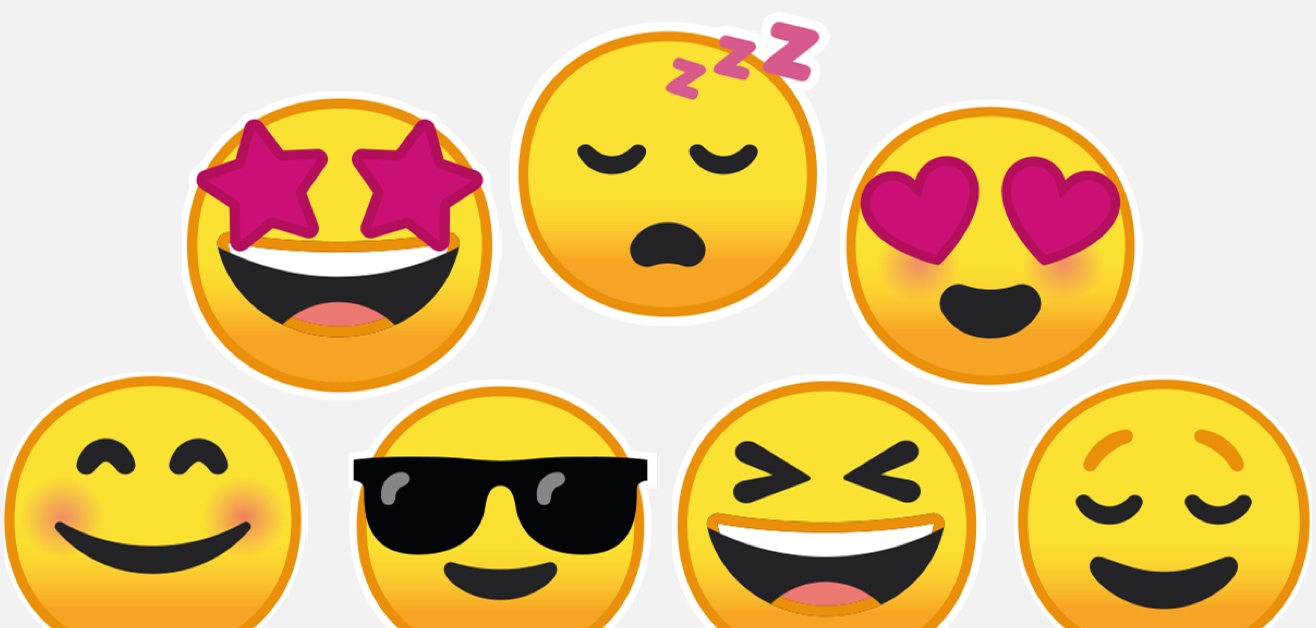 Bemærk: Vi anbefaler at du konsulterer en læge eller ernæringsekspert, hvis du har spørgsmål vedrørende brugen af ​​dette produkt. Ernæringsmæssige oplysninger kan variere afhængigt af smag.
* De viste billeder tjener kun et illustrativt og reklamemæssigt formål og kan derfor afvige fra det endelige produkt.
Antal:
15 tyggetablet(ter)
Portionsstørrelse:
3 tyggetablet(ter)
Portioner per beholder:
5
Lycopene ( Lycopersicon esculentum) (fruit)
**
150 mcg
* Referenceindtag for en voksen gennemsnitsperson (8 400 kJ/2 000kcal).
** Referenceindtag er ikke fastsat

Ingredienser
Glukosesirup,
Maltodextrin
, Flavouring, Antiklumpningsmiddel (
Magnesiumsalte af fedtsyrer
), Surhedsregulerende middel (Citronsyre), Beta-karoten, Tomatekstrakt, Retinylacetat, Sødemiddel (Sukralose) .
Anbefalet daglig portion Chew, or let dissolve in your mouth, 3 tablets per day.
Kosttilskud With sugar and sweetener.
Advarsel:
Not recommended for menopausal women. Do not use this product if you are pregnant, or attempting to become pregnant. If you're breastfeeding, please consult a healthcare professional before using this product. This product is not recommended for smokers. Overskrid ikke den anbefalede daglige dosis. Dette produkt må ikke træde i stedet for en varieret og afbalanceret kost og en sund livsstil. Opbevares utilgængeligt for børn. Store in the original packaging in a cool, dry place, avoiding direct sunlight.
Find the answers to your questions in our FAQ.
Ask a question
Find the answer to your questions about this product in our FAQ.
Please note that any nutritional advice must be given by your physician or nutritionist!
Fill in the form and send us a message:
Important: You may receive an e-mail after filling in this form
Annuller
Din besked er blevet sendt. Tak for din henvendelse, du vil modtage svar hurtigst muligt!
Prozis
Yeeellow - Vita Sun 15 Chewable tabs
Want to add some radiance to your life? Prozis Yeeellow, with Vitamin A, beta-Carotene and Lycopene, lets the sun shine under your skin. Color your days!

Yeeellow - Vita Sun 15 Chewable tabs
Du skal logge ind for at fortsætte!