Overtraining: Know the symptoms of training too much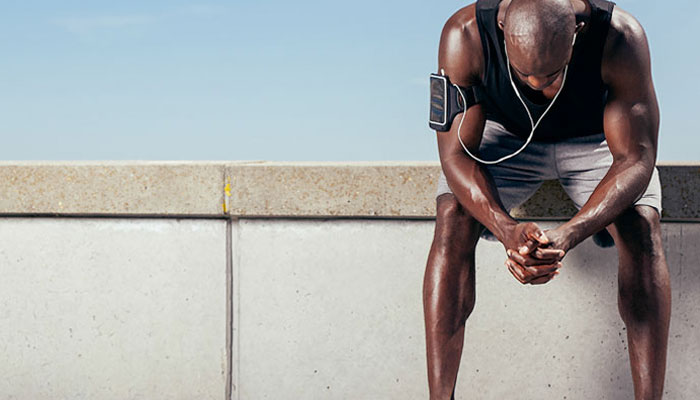 Everyone knows the consequences of spending too much time sitting down and the lack of physical exercise, but only few are aware of the problems that stem from excessive training (overtraining), or even know what overtraining means. Since the concept isn't exactly easily defined, or the syndrome easy to recognize, this is not all that strange. When the effort is so extreme that the body cannot cope with it, the physical stress and aggressions it is exposed to can trigger defensive responses that become harmful. And the body's response capacity can vary considerably according to several factors, as well as have impact on other stress factors in people's lives.
The symptoms of overtraining can vary strongly and are not very specific, which complicates a quick diagnosis. Moreover, for both amateur and professional athletes it can be difficult to accept that they have achieved a state of general fatigue provoked by their own badly scheduled training, poor nutrition or inadequate amounts of rest compared to the induced stress. Those who are most affected by it are typically not athletes with professional guidance, but people who train for recreational purposes and who either fail or refuse to recognize their own limits. Another group prone to overtraining consists of people who have made physical exercise their profession, such as group fitness instructors for example.
The symptoms of overtraining vary greatly, as shown in these examples:
Fatigue;
depression;
insomnia;
dizziness;
heart rate fluctuations;
changes in appetite;
increased anxiety;
spasms/twitching;
irritability;
sensations of bloating or "tightening of the throat";
sweating at rest;
joint pain and muscle pain.
With regard to the last one in the above list, the pain typically manifests itself during rest instead of during the actual physical effort. The endorphins produced while exercising outweigh the threshold of the opioid receptors, so that the pain goes unnoticed. Only when the endorphin levels decline while resting, the signs of aggression become stronger than our resilience so that the pain is felt.
Diagnosing someone with overtraining, or with overreaching which is a milder and more common form, cannot be done easily or immediately. There are no reference patterns or consensual biochemical analyses that facilitate identifying the problem easily. What I can give you however, is a list with possible relations between overtraining and analytic parameters of the athlete:
Ratio free testosterone/cortisol
DHEA/cortisol
Decline of urinary excretion of catecholamines overnight
Sensitivity of serotonin receptors
Decline of Gln/Glu (glutamine/glutamate) ratio in blood plasma
Decline of hemoglobin and hematocrit due to hormone alterations
Decline of T3 hormone
There are also other ways to establish the diagnosis, based on symptom-related questionnaires. In the end these still provide the best way to assess the problem.

Answering over 15 questions with a positive answer means that one should be careful, while answering with over 25 positive answers is cause for alarm, and for some serious rest.
Another tool that might be of use in this situation is POMS (Profile of Mood States). In both clinical and sports contexts, this tool is often used to obtain an idea of someone's psychological state. Keep in mind that in case of overtraining, the first aspects to be affected are mood, cognitive function, concentration, confidence and positivity.
It should be clear that getting out of such a state can take up to 6 months without training, or with very light training. There is still much to be said about overtraining syndrome, a condition that is not as rare as I expected when I started out working in the sports world, even in "casual" gym goers. And the way I see it, its main causes are lack of specialized guidance, little sensibility of professionals regarding the subject, and total unwillingness to heed the signs that our body gives us.
Our body tells us all we need to know and warns us duly in advance. We are simply deaf to its voice.