What are the best whey protein isolate supplements?
In the world of sports nutrition, whey protein isolate is the obvious choice for athletes and fitness enthusiasts following a calorie-restricted nutritional plan, either to lose weight or to sustain muscle gains during a cutting phase, especially when preparing for a bodybuilding competition. Also, it is ideal for those who suffer from lactose intolerance.
But after all, what makes whey protein isolate so special?
Whey protein isolate formulas are the result of thorough filtration processes which remove virtually all fats and carbohydrates, including sugars such as lactose. Generally, a whey protein isolate supplement has over 90% protein content, being significantly purer than whey protein concentrates. Besides, it has a complete amino acid profile and quick absorption rate. For such reasons, it is considered the best option for the cleanest mass gains.
So, what are the best-selling whey isolate powders on the market?
Based on the nutritional profile, quality of ingredients, flavours and taste, mixability and value for money, we selected the top-selling whey protein isolate supplements for you. Take a look at this list below before you choose your ally.
100% Whey Hydro Isolate SS (Xcore)

To deliver up to 27g of highly bioavailable whey protein and more than 6g of BCAAs per scoop, 100% Whey Hydro Isolate Sports Series goes through a special iXPB process, consisting of 3 steps. First comes the ultrafiltration phase, for removing fat, lactose and cholesterol; second comes hydrolysis, in order to break the protein into small pieces and improve absorption; and finally the enhancement phase, to enrich the formula with micronised BCAAs, L-Glutamine and Creatine Monohydrate, plus 12 essential vitamins and a multi-enzyme complex. The result? One of the most advanced hydrolyzed whey protein isolate available on the market.
100% Whey Isolate (Scitec Nutrition)

"5 stars product", "the best on the market", "very good taste"… The customers' positive reviews about 100% Whey Isolate just go on. And in fact, all credit is due to this ultra-filtered whey protein isolate powder. Scitec Nutrition have created a formula that is lower in carbohydrates and fortified with even faster-absorbing whey hydrolysate and extra L-Glutamine.
Furthermore, Scitec Nutrition proteins are some of the best tasting on the market. So, one thing is clear: you will definitely enjoy the flavour of your protein shake.
Iso Zero Performance Series (Muscletech)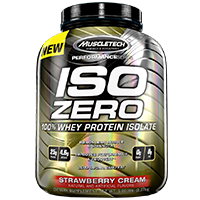 Muscletech developed its Performance Series formulas with one purpose: to address the concerns of the most demanding consumers who want transparency about the ingredients in the supplements they take.
Iso Zero Performance Series meets that expectation 100%. Its ingredient panel is simple, clean and pure: whey isolate as the only protein source; added glutamine, leucine, isoleucine, valine, glycine, taurine and alanine; and two digestive enzymes, papain and amylase. Per scoop, you get 25g of whey protein isolate at the expense of about 120 calories, with zero sugars and zero fats, but all the flavour Muscletech has got us used to.
ISO 100 (Dymatize)

Dymatize says ISO 100 is an ultra-low-carb protein formula that actually tastes good. The ingredients panel and customers' reviews confirm it.
100% hydrolysed and instantised, and taken through exhaustive quality control steps, ISO 100 contains 100% whey protein isolate: the most easily absorbable and bioavailable source of protein on the market. Each serving has about 24g of protein, with only 1g of carbs and 0g of fat. And because of its meticulous filtration process, ISO 100 mixes easily in both milk and water.
Iso Whey Zero (Biotech USA)

Considering its well known quality-control processes and high-quality formulas, made up of 100% safe selected nutrients, if Biotech says zero, then they mean zero useless or hidden ingredients.
In the case of Iso Whey Zero, zero means zero lactose, zero trans fat and zero added sugar. Just pure whey protein isolate with a great amino profile, as the formula is high in branched-chain amino acids and other amino acids such as L-Glutamine, that will keep your muscle cells well nourished.
Zero Sugar / Zero Fat Isogreat (Scitec Nutrition)

Processed using a low-pressure and low-temperature combination of cross-flow ultrafiltration and microfiltration techniques, Scitec Zero Sugar / Zero Fat Isogreat gives you a protein shake that is actually 90% protein. Each 22g of the recommended serving provides you with 20g of protein, all the amino acids including L-Glutamine, 0g of fat and 0g of carbs. Moreover, this formula contains important biologically active protein micro-fractions, like beta lactoglobulin, alpha lactalbumin or bovine serum albumin. And you get this handful of nutrients at the expense of only about 80 calories.
100% Real Whey Isolate (Prozis Sport)

100% Real Whey Isolate offers you good value for money, as our customers' thousands of comments show. Once again, Prozis Sport has not deviated from its motto "keep it simple, keep it real", developing one of the purest and most highly concentrated whey protein isolate supplements on the market.
Using technologically advanced processes and complying with meticulous quality control procedures, 100% Real Whey Isolate hides no secrets: it has over 90% protein content, a complete amino acid profile, and virtually no sugars and fats. Simple and real.
Zero Carb Metapure (QNT Sport)

QNT has one mission: build champions. And its Zero Carb Metapure formula is totally up to the task.
Exclusively made of ultra-filtered whey protein isolate, with zero carbs and very low lactose content, this formula provides a faster-release protein shake, easily digestible and extremely easy to dissolve, both in water and milk. Plus, Zero Carb Metapure is rich in essential amino acids, including leucine, isoleucine and valine – the branched-chain amino acids that the human body cannot produce.
Isopure Zero Carb (Nature's Best)

According to Nature's Best, Isopure Zero Carb is a protein with taste, without packing on carbs, fat or cholesterol. And the customers' reviews confirm it.
But, there is another factor that sets this supplement apart, besides flavour: its 50g of protein in every suggested serving. "Just" twice the standard amount! Also, Isopure Zero Carb is loaded with all the nutrients needed to keep you going strong towards your fitness goals, such as amino acids, vitamins and minerals.
Xtreme ISO-XP SS (Xcore)

With over 90% protein content, a powerful amino acid profile, rich in BCAAs and L-Glutamine, and 12 essential vitamins, Xcore SS really took the needs of the most demanding athletes seriously when developing Xtreme Iso-XP SS.
The formula contains 100% protein from ultra-filtered whey and is fortified with a patented blend of digestive enzymes, which helps break down protein during digestion and reduce gastrointestinal problems frequently associated with whey protein intake. Furthermore, Xcore has more than succeeded in improving the formula's flavours, with no added sugars or aspartame.