Which are the best mass gainers?
When it comes to putting on size, building rock solid, lean muscle, mass gainer shakes are definitely the best bet. Every hardgainer knows it! After all, no matter how much or how hard you train, your efforts will not pay off if you don't take in more than enough calories for your needs.
But first things first, what exactly is a mass gainer?
Those who need the extra calories most, often find really challenging to consume all of them through whole foods alone. Either because of a highly-active metabolisms or their on-the-run lifestyles. This is where mass gainers step in.
Loaded with all the ingredients that make up the mass – high biological value proteins, complex carbohydrates, healthy fats and micronutrients in extremely calorie-dense servings -, gainers provide you with serious, sustained energy, most needed to support muscle growth, maintenance and recovery. A weight gainer shake is a quick, easy and affordable way to help you increase your macronutrient intake.
There are plenty of mass gainers available and all ensure you will get big after trying them out.
So, what are the best mass gainers in the market?
Based on the quality of ingredients, effectiveness, taste and our customer's reviews, we selected the best for you. Take a look at this list below before you choose your ally.
Optimum Nutrition Serious Mass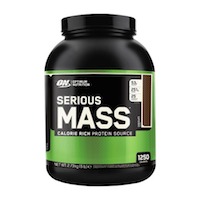 Year after year, Optimum Nutrition has been setting the bar high for the food supplementation industry. Their product's quality is unshakeable and Serious Mass is no exception. Loaded with 1250 mass-gaining calories, 250g of carbs, near 50g of protein and 25 vitamins and minerals per serving, Serious Mass gives you a premium quality and delicious shake. Moreover, the formula was enriched with glutamine, creatine, choline, inositol, and easy-to-digest fatty acids (MCTs), going beyond the basics and taking your size very serious.
Muscletech Mass-Tech Performance Series
Delivering 1170 mass-producing calories per scoop, derived from high-quality protein and a multi-phase carb complex, Muscletech Mass-Tech® provides key nutrients for all hardgainers. But when it comes to really get big, you need to go further those key ingredients. With that in mind, Mass-Tech® Performance Series was enriched with essential omega-rich fats, creatine to increase strength and important amino acids, like L-alanine, L-Leucine, Glycine, Taurine and Glutamine, for enhanced effects. Moreover, Muscletech assures the best-in-class taste, offering you four delicious flavours: strawberry, milk chocolate, cookies and cream and vanilla.
Xcore Savage Bear Mass Prey
Xcore Savage believes that "if you want to be built like a bear, you must eat like one". Following that belief, they left nothing out in their Bear Mass Prey. Per scoop, this gainer gives you more than 1200 calories with 60g of molecularly hydroisolated premium beef protein. So, if you're looking for other protein sources rather than whey, Bear Mass Prey should be on your to-buy list. Due to its InsulinRush™ complex, Xcore Savage Bear Mass Prey produces the ideal insulin peak, making it possible for the nutrients to be quickly shuttled into to your muscle cells, rapidly replenishing the muscle glycogen stores. On the other hand, and just like beef, this gainer has its own enzymatic complex, K-Eazyme™, which ensures you get the most of the 60g of protein in each serving.
Mutant Mass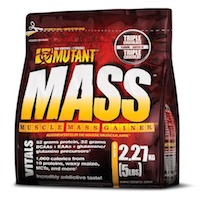 Mutant is more than just a supplementation brand. It's actually a lifestyle followed by those who want not big, but massive size. That is why Mutant Mass has become the gainer of choice among bodybuilders and powerlifters aiming to build mutated muscle.This gainer provides 1060 ultra-dense mass building calories. Each serving is full of high-quality proteins and clean carbs, such as waxy maize, assuring fewer sugars. Besides, Mutant Mass was enhanced with an exclusive blend of nutrient-rich EFAs and MCTs sports oils. There are many flavours available and Mutant Mass is often sold in large quantities, which is perfect if you're looking to stock up and save some money.
Scitec Jumbo Professional
Jumbo means big and strong. And the nutrient ratios of Scitec Jumbo Professional reflect those brand's purposes. In one serving size, this gainer provides about 52g of fast-acting whey protein, with all the necessary amino acids. But one of Jumbo Professional highlights is definitely the "6-CARB" carbohydrate blend that combines slow and fast digesting ingredients, such as oat flour, Palatinose™ and waxy maize starch. Moreover, if you're looking to increase strength and performance while putting on size, you should definitely consider this gainer as a solid bet once it comprises a multi-component creatine matrix, called CREA-BOMB, which offers you not 1 or 2, but 6 types of creatine.
Prozis Sport Real Mass Gainer
Following its motto "keep it simple, keep it real", Prozis Sport designed Real Mass Gainer. It features premium quality whey and egg white proteins, slow-digesting oat flour, fact-acting maltodextrin and fast-digesting fats (MCTs). And when it comes to fuel your muscles and keep growing, these nutrients are the real thing. With Real Mass Gainer, you won't get unnecessary, non-nutritious ingredients. Only the highest quality, in more than 400 nutrient-dense calories per serving. Plus, we challenge you to find any other gainer with such straightforward nutritional-rich profile and competitive price in the market.
BSN True Mass
True Mass by BSN is a ultra-premium mass gainer that really stands out for its high-quality ingredient and mouth-watering flavours. BSN True Mass features a multi-functional whey protein matrix and a unique carb blend, providing the caloric support needed to prepare your body for intense training, as well as to support recovery. Also, it gives you a healthy fats supply to satisfy your energy demands. And the cherry on top of these complete nutritional profile? All the delicious flavours available, making your weight-gaining shake time one of the best times of the day.
Xcore Xtreme Mass Gainer SS
Looking for a true nutritional bomb?We have just found it one for you: Xtreme Mass Gainer SS. With almost 1300 quality calories per serving, comprising more than 60g of protein and about 250g of carbs, this gainer is both ideal for people with a fast metabolism and for those who are subjected to intensive training programmes. But Xcore went further and added an exclusive complex to the formula. InsulinRush™ combines maltodextrin and inositol to stimulate insulin release and help deliver all the nutrients in this gainer to the muscle cells. Also, it features creatine monohydrate and glutamine, providing that most needed twist to the muscle recovery effect.
Dymatize Super Mass Gainer
Super Mass Gainer is a highly concentrated supplement with all the nutrients needed to help you gain and maintain mass and to match the main competitor's formulas available in the market. But Dymatize is not one of those brands that settle for "as good as the others". So, in their formula, besides a massive 1280 calories and 50g of glutamine-rich protein per serving, they added creatine for strength and a digestive enzyme mix for you to take in maximum calories and protein while avoiding digestive stress.
Universal Nutrition Real Gains
Having in mind each and every hardcore active and athletic individual, Universal Nutrition designed Real Gains. In every scoop, you will find the finest whey protein, with an excellent amino acid profile, and the best micellar casein. In the formula, they have also included large amounts of complex carbs, MCTs, flaxseed oils and a special dietary fibre, called inulin, that will help you out in digesting the macronutrients. With Real Gains you get more of what matters – meaning, calories, proteins, carbs, fibre, good fats, taste -, and less of what don't – fat and sugar. That is why it is one of the best bets when it comes to choosing your mass-gaining ally.
Note:
Remember that, even with the help of one of these incredible mass gainers, true muscle growth will not come overnight. Putting on mass requires serious dedication. Keep working hard, be consistent with your diet plan, get enough sleep and you will see some great results at the end.