What are the best BCAA supplements?
Running out of energy and feeling the signs of fatigue creeping in is arguably the worst thing that can happen during a workout. To avoid it, bodybuilders, crossfitters, endurance athletes and fitness enthusiasts, have one great ally: BCAA supplementation. Let's explain it!
What are BCAA and how do they work?
Branched-Chain Amino Acids (BCAA), – Leucine, Isoleucine and Valine -, are the three most important amino acids. Why? For two simple reasons. First, because they belong to the essential amino acids group, which means our body can't produce them. So, their only source is our daily food or food supplementation. Second, because BCAA account for about 35% of the essential amino acids in muscle proteins, and, during stressful situations for the body, like intense training or lack of good nutrition, they are used up first by the muscles for energy.
BCAA play an important role in muscle protein synthesis and are useful to provide energy when glucose is low, which easily happens when you are on a weight-loss diet or on a cutting phase for a bodybuilding competition. In fact, taking a BCAA supplement before exercise has proven to be an effective way of reducing fatigue and promoting physical endurance.
For these reasons, BCAA are among the most popular supplements for sports enthusiasts looking to fuel the muscles for a workout, and to enhance recovery after training. And what are the best-selling BCAA formulas on the market?
Based on the quality of ingredients, effectiveness, and our customer's reviews, we selected the best-selling BCAA for you. Take a look at this list below before you choose your ally.
Xcore Nutrition BCAA 8:1:1 Complex SS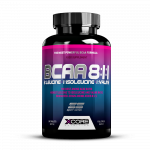 Taking their motto "extreme measures for extreme results" into action, the team of experts at Xcore Nutrition developed a supplement with the most powerful ratio of BCAA there is — 8:1:1 of leucine to isoleucine and valine. Thanks to its high leucine content, the key amino acid for muscle protein synthesis, this is the perfect product for promoting the recovery of demanding athletes who undergo intensive training sessions. Besides, BCAA 8:1:1 Complex SS is enriched with B-complex vitamins for a more comprehensive action.
Scitec BCAA 6400
Scitec BCAA 6400 offers you good value for money, as the brand reputation suggest and our customer's thousands comments confirm. Its formula is simple, and thus effective. By serving you get 2240mg of leucine, 1120mg of isoleucine and 1120mg of valine, which represents a balanced 2:1:1 proportion of these three most important essential amino acids in muscle protein synthesis.
Okygen Sports BCAA 4:1:1
Okygen takes its mission to provide a complete offer of high-quality supplements very serious. And, when its researchers discovered that the majority of BCAA supplements on the market does not contain sufficient leucine, not even the minimally acceptable 2:1:1 ratio, Okygen knew what it had to do: developed a BCAA formula with a leucine proportion that really works. With a Okygen BCAA 4:1:1 ratio, i.e. containing four times more leucine than the other amino acids, this supplement will definitely help you feel the difference when training.
Prozis Sport BCAA 2000
Prozis has formulated BCAA 2000 to provide quality branched-chain amino acids in a 2:1:1 ratio, and that is what you get. Actually, you got something more: vitamins B2 and B6. These B- complex vitamins promote the body's energy production metabolism and play side by side with BCAA to support protein absorption and synthesis. BCAA 2000 is available in easy-to-take tablets that you can take anywhere, anytime.
Xcore Nutrition BCAA Powder
This powdered formula of BCAA by Xcore Nutrition was subject to a thorough micronisation process. The result? 100% pure grade and easier to mix particles, which are more rapidly digested and absorbed. Moreover, Xcore Nutrition BCAA Powder comes in different refreshing flavours, like lemon-lime, orange, cola or even mojito, but it also has a flavourless version, ideal for mixing with your favourite juice or protein shake without altering the taste.
USPLabs Modern BCAA+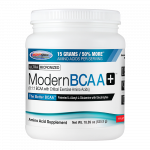 Known worldwide for products such as Jack3d®, USPLabs have got their clients used to really powerful supplements. Modern BCAA+ is one of those cases where they put everything into creating the best BCAA supplement they could. The result in a ultra-micronised product that mixes instantly, formulated with a potent 8:1:1 leucine-isoleucine-valine ratio combined with their proprietary SustamineTM, a more stable form of glutamine. So more than enough reasons to be in this list.
Xcore Nutrition BCAA Complex 3100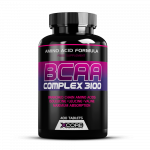 Having only hardcore results in mind, the team of experts at Xcore Nutrition developed a supplement of branched-chain amino acids for every serious athlete out there. BCAA Complex 3100 contains leucine, valine and isoleucine of the highest quality in a 2:1:1 ratio and it was enriched with B-complex vitamins, namely vitamins B2 and B6. Moreover, this product is available in super convenient tablets: 400 tablets to be precise, which means more than two month supply per bottle.
Win Nutrition BCAA +
Win Nutrition offers a wide range of affordable, but not "cheap" supplements. Their BCAA+ provides the three branched-chain amino acids Leucine, Isoleucine, and Valine in a form that your body is able to use, and an extra 5 grams of maltodextrin to help shuttle these amino acids right into the muscles. And all of this in a powder supplement that also offers good value for your money.
MuscleTech Platinum 100% BCAA 8:1:1
Designed with one of the most potent BCAA ratio available on the market, Platinum BCAA 8:1:1 by Muscletech provides you with 1000mg of pure branched-chain amino acids per serving and ensures your muscles are properly loaded with leucine for real results. This formula makes part of MuscleTech Essential Series, one of the best-in-class line of supplements, specially developed to meet every athletes' needs.
BSN AMINOxTM
BSN® has earned a reputation as one of the most innovative sports nutrition companies in the world, and their first branched-chain amino acid product did not fall short to expectations. AMINOxTM is the first effervescent instantised BCAA supplement, meaning it features a delivery formula that allows every nutrient to be absorbed quickly and completely. As a result, you know you will get the most out of its 4g of pure BCAA per serving, plus 10g of the anti-catabolic amino acids L-alanine, L-arginine, and L-taurine. And all of this with 0g of sugars.