Description
Nutritional Info
Comments (128)
FAQ (0)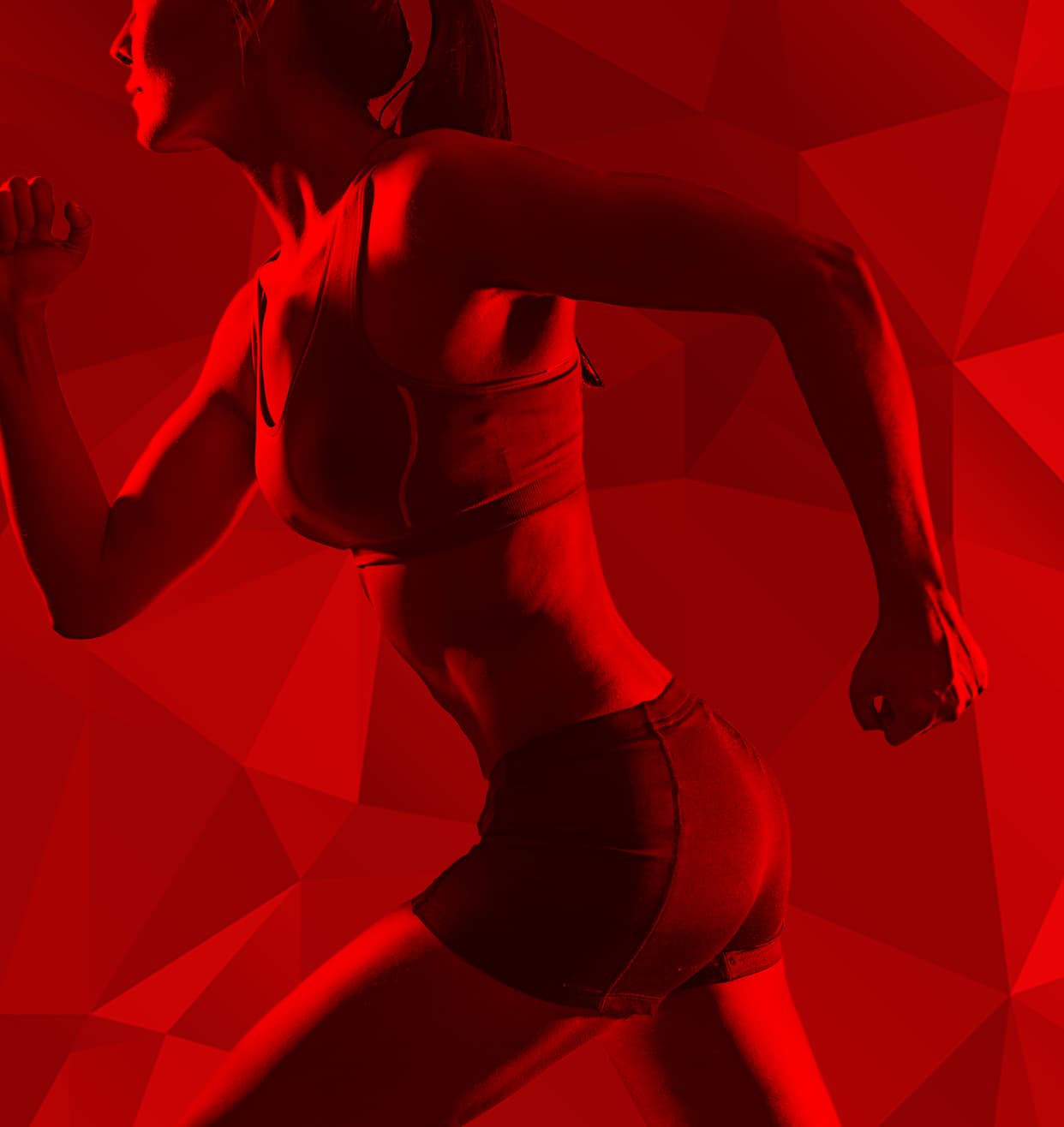 Energy and vitality for a healthy life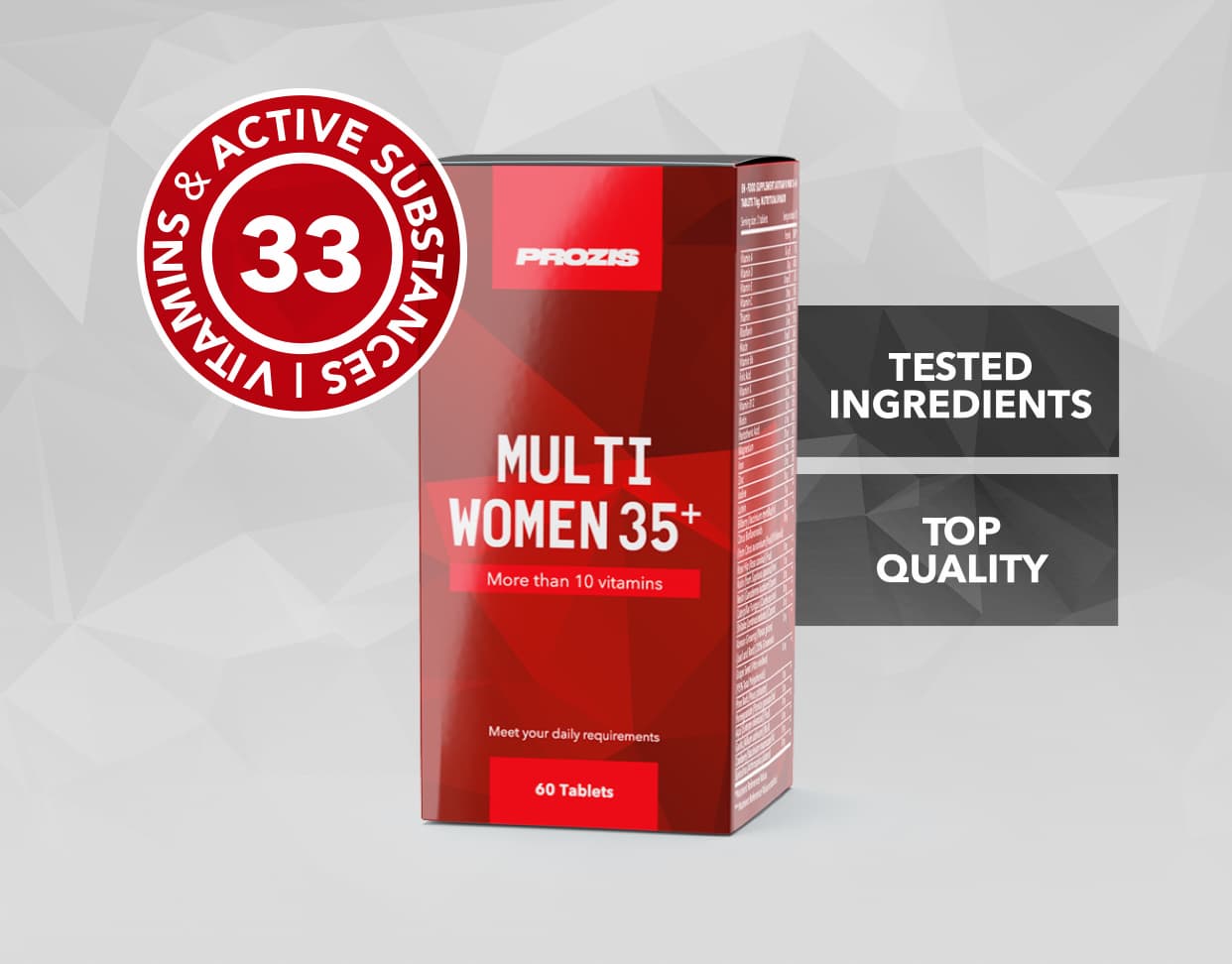 This is a vitamin supplement that aims to optimise the health and well-being of all women 35 and up. It helps by supplying women in this age group with everything they need for a healthy and balanced lifestyle, as it contains a broad spectrum of vitamins and minerals essential for the proper functioning of the body, to complement an already varied and balanced diet. More than 30 vitamins and active substances to boost your days!
A good, balanced diet – filled with fruits and vegetables, low-fat dairy, plenty of water, healthy oils, good proteins and whole grains – is essential to provide you with enough vitamins and nutrients for living healthily. This supplement will complement your daily diet and can help you overcome specific deficiencies. More than 30 reasons to live healthily and in perfect balance.
MIGHTY AS YOU WISH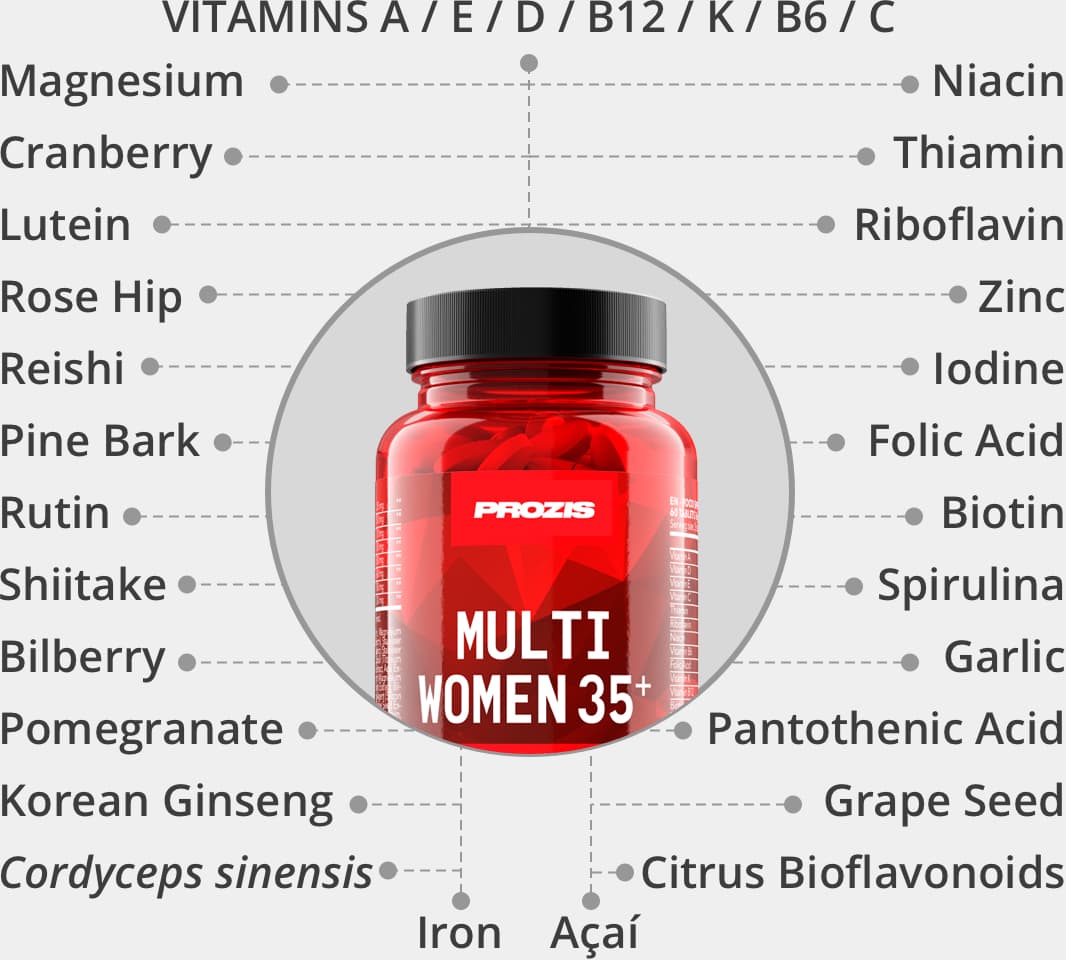 Wide spectrum of benefits
• Normal function of the heart

• Maintenance of normal red blood cells

• Normal blood calcium levels

• Normal collagen formation for the normal function of blood vessels

• Normal formation of red blood cells and hemoglobin

• Normal blood clotting

• Normal psychological function

• Normal functioning of the nervous system

• Normal mental performance

• Normal synthesis and metabolism of vitamin D and some neurotransmitters

• Normal cognitive function

• Electrolyte balance

• Reduction of tiredness and fatigue

• Normal function of the immune system

• Maintenance of normal mucous membranes

• Normal metabolism of vitamin A

• Lutein is one of the carotenoids, yellow and orange pigments found in many fruits and vegetables including mangoes, corn, sweet potatoes, carrots, squash, tomatoes, and dark, leafy greens such as kale, collards and bok choy. It is the major carotenoid in the fruit and vegetable-rich Asian diet.

• Maintenance of normal muscle function

• Normal absorption/utilisation of calcium and phosphorus

• Normal energy-yielding metabolism

• Normal thyroid function

• Normal macronutrient metabolism

• Normal iron metabolism

• Normal homocysteine metabolism

• Normal cysteine synthesis

• Supplemental folic acid intake increases maternal folate status. Low maternal folate status is associated with an increased risk of neural tube defects in a developing foetus.

• Maintenance of normal bones
Take 2 tablets per day!
The rapid pace of everyday life, and the resulting stress, make our bodies more vulnerable. In order to strengthen the immune system, vitamin supplements combined with a good diet are an excellent choice to optimise health and well-being on those busy days that take up a lot of time.
Your powerful ally:
More than 30 vitamins
For a balanced diet
Optimises health and well-being
Note: We recommend you consult a physician or nutritionist if you have any questions regarding the use of this product. Nutritional information may vary depending on flavour.
Best before end:
2021-03-31
Serving size:
2 tablet(s)
Servings per container:
90
Vitamin B12
104%
2.60 mcg
Pantothenic Acid
108%
6.50 mg
Bilberry (Vaccinium myrtillus) (fruit)
**
20 mg
Citrus Bioflavonoids (Citrus aurantium) (Fruit) (50% Bioflavonoids)
**
80 mg
Rose hips (Rosa canina) (fruit)
**
50 mg
Rutin powder (from Sophora japonica flowers)
**
15 mg
Reishi (Ganoderma lucidum) (Carpophore)
**
20 mg
Cordyceps sinensis (caterpillar fungus)
**
80 mg
Shiitake (Lentinus edodes) (Carpophore)
**
20 mg
Korean Ginseng (Panax Ginseng) (Leaf and Root) (20% Ginsenosides)
**
25 mg
Pine Bark (Pinus pinaster)
**
10 mg
Pomegranate (Punica granatum) (Seed)
**
50 mg
Acai (Euterpe oleracea) (Fruit)
**
50 mg
Cranberry (Vaccinium macrocarpon) (Fruit)
**
50 mg
Spirulina (Arthrospira platensis)
**
30 mg
* Reference intake of an average adult (8400 kJ/ 2000 kcal).
** Reference intake not established.

Ingredients
Thickener (Microcrystalline Cellulose),
Maltodextrin
,
Magnesium Oxide
, Citrus Bioflavonoids,
L-Ascorbic Acid
, Thickener (Oxidised starch), Stabiliser (
Polyvinylpyrrolidone
), Cordyceps sinensis Powder, Garlic Powder, Coating (Stabiliser (Hydroxypropyl methyl cellulose), Stabiliser (
Polyvinylpyrrolidone
), Colour (Titanium Dioxide), Colour (Iron oxide brown)), Rose Hips Extract, Pomegranate Seed Extract,
Acai Fruit Extract
, Cranberry Fruit Extract,
Ferrous fumarate
, Spirulina powder, Anti-caking Agent (
Magnesium Salts of Fatty Acids
),
DL-Alpha-Tocopheryl Acetate
, Korean Ginseng Leaf and Root Extract, Bilberry Fruit Extract, Reishi Mushroom Powder, Shiitake Mushroom Powder,
Nicotinamide
, Rutin, Anti-caking Agent (Silicon Dioxide),
Pine bark extract
,
Cholecalciferol
,
Calcium D-Pantothenate
,
Grape seed extract
, Retinyl Acetate,
Zinc Oxide
, beta-Carotene, Pyridoxine Hydrochloride, Riboflavin, Thiamine Hydrochloride, Phylloquinone,
Lutein
, Pteroylmonoglutamic Acid, Cyanocobalamin,
Potassium Iodine
,
D-Biotin
.
Recommended Daily Portion: Take 2 tablets per day.
Food supplement.
Warnings:
Do not exceed the Recommended Daily Portion. Not recommended for menopausal women. Do not use if you have thyroid disease. Not recommended for people suffering from diseases characterized by an abnormal accumulation of iron. Not advised for children under 12, pregnant or breastfeeding women or people taking antihypertensive medication. Consult your physician if you have any cardiovascular abnormalities or are taking anticoagulant or antidiabetic medication. Stop using the product if agitation or nervousness occur. This product is not recommended for smokers. This product should not replace a varied and balanced diet and a healthy lifestyle. Keep out of reach of children. Store tightly sealed in the original packaging in a cool, dry place, avoiding direct sunlight.
Find the answers to your questions in our FAQ.
Ask a question
Find the answer to your questions about this product in our FAQ.
Please note that any nutritional advice must be given by your physician or nutritionist!
Fill in the form and send us a message:
Important: You may receive an e-mail after filling in this form
Cancel
Your message has been sent. Thank you for contacting us, please wait for a response!
Prozis
Multi Women 35+ - 180 tabs
Developed to support your well-being and daily balance, Prozis Multi Women 35+ has an incredible nutritional profile, and is rich in vitamins and minerals. Go for it!

Multi Women 35+ - 180 tabs
Please log in to continue!