XCESS Black Box
Xcore Nutrition has transformed what was good into something even better. XCESS Black Box is faster, more efficient, and

...
more XCESS
Best price guaranteed
Quality and authenticity guaranteed
What's in XCESS Black Box
Lot:
G2928.
Best before:
2015-07-30
120 capsule(s)
Serving size: 2 capsule(s)
Servings per container: 60

0%
0 kcal = 0 kJ
Energy value
Caffeine Anhydrous
**
200 mg
Irvingia Gabonensis DE 10:1
**
150 mg
Coleus forskohlii DE 10%
**
100 mg
Green Tea DE 75%
**
100 mg
Acai Berry PE (2%)
**
50 mg
Garcinia cambogia DE - Citrimax
**
30 mg
* Percent Daily Values are based on a 2000 kcal or 8400 kJ diet. Your Daily Values may be higher or lower depending on your calorie needs.
** Daily Value not established

Other ingredients for the capsules
, Microcrystalline Cellulose, Anhydrous Dibasic Calcium Phosphate, Magnesium Stearate, Ingredients of the gel , Water, Caprylic/Capric Triglyceride, Decyl Oleate, Glycerin (Glycerol),Cetearyl Alcohol, Propylene Glycol, Dimethicone, PEG-40 Castor Oil, Hydrogenated Vegetable Glycerides, Sodium Cetearyl Sulfate, Prunus amygdalus dulcis (Sweet Amond) Oil, Simmondsia Chinensis (Jojoba) Seed Oil, Glycerin, Parfum (Fragrance), Benzyl Nicotinate, Tocopheryl Acetate, D-Limonene, Citral, Aloe Barbadensis Leaf Juice Powder, Benzyl Alcohol, Tocopherol, Elattaria cardamomum Seed Extract, Theobroma Cacao (Cocoa) Shell Extract, Zingiber officinale (Ginger) Root Extract, Piper nigrum (Pepper) Seed Extract, Potassium Sorbate, Methylchloroisothiazolinone, C.I. 19140 (Acid Yellow 23), C.I. 15985 (Food Yellow), C.I. 14720 (Acid Red 14), Methylisothiazolinone.
Directions for the capsules: Take two (2) capsules 30 minutes before breakfast and 2 more in the afternoon. Start with only 2 capsules on you first two days (1 in the morning and 1 in th afternoon) and increase dosage by 1 capsule every two days until maximum dosage of 4 capsules per day is reached. Do not take within 6 hours of sleep. Recommended use for the gel: The 150 mL gel provides 15 portions of 10 mL. Apply every morning and evening on clean and dry skin, over the affected areas. Rub until cream is completely absorbed.

Warnings concerning the capsules: Consult a physician prior to use if you have any medical condition. Not intended for use by persons under the age of 18. Do not use if pregnant or nursing. Do not exceed the recommended daily dosage. Do not consume synephedrine or caffeine from other sources, including but not limited to, coffee, tea, soda, and other dietary supplements or medications containing phenylephrine or caffeine. Contains caffeine. This product contains roughly as much caffeine as one cup of coffee. Do not use for more than 8 weeks. This product should NOT be used by people with the following (but not limited to) conditions: recurrent headaches, glaucoma, alcoholism, high or low blood pressure, heart, liver or thyroid disease, diabetes, psychiatric disease or condition, seizure disorder, cardiac arrhythmia, stroke, metabolic syndrome, gallstones, gallbladder disease, bile duct obstruction, difficulty urinating due to prostate enlargement, or if you are taking a MAO inhibitor, antidepressants, aspirin, nonsteroidal anti-inflammatory drugs, products containing phenylephrine, ephedrine, pseudoephedrine, other stimulants or any other prescription drug. Discontinue use two weeks prior to surgery. Reduce or discontinue use and consult a health care professional if excessive sleeplessness, tremors, nausea, dizziness, nervousness, hyperhidrosis, headaches, or heart palpitations occur. Keep out of reach of children. Store in a cool, dry place. Warnings concerning the gel: Not to be consumed by children, pregnant women, older people, and people suffreing from illnesses. Not intended for use by persons under the age of 18. For insensitive skin. Consult a physician prior to use if you have any medical condition. Do not use on face and sensitive body areas. Must not get in contact with mucous membranes. The product should not be used in case of hypersensitivity or allergy to any of the ingredients of the formulation. Keep out of reach of children. Store in a cool, dry place.
Xcore Nutrition has transformed what was already good into something even better. XCESS Black Box is faster, more efficient, and more XCESS...
Xcore Nutrition introduces XCESS Black Box, the limited edition of the most powerful and efficient thermogenic on the market. The search for perfection never ends for Xcore Nutrition, and when we find something really good, it's time to find something even better. Undoubtedly, the most potent fat eraser ever: XCESS Black Box.
It's not a myth, it's real life. The most wanted box in the planet for losing weight and eliminate fat: XCESS Black Box

XCESS Black Box contains the most powerful double action combination against fat. It's the new improved version of XCESS, researched and reformulated mg to mg with the latest discoveries in the field of fat burners. XCESS Black Box has used the latest researches, the best ingredients and the most advanced technology to create the most potent and efficient thermogenic on the market. Its synergic double action combination against fat, it's composed of XCESS Fat Burner and XCESS Toning Cream, which act on the inside and on the outside of your organism, maximizing the destruction of fat storages in a fast and safe way.
XCESS Black Box allows you to lose up to 7 kg (15 lb) in the first week and to burn more fat week after week in an overwhelming way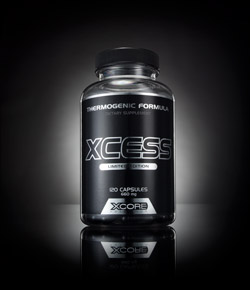 With XCESS Black Box you will raise the spark of your ambition, and you will get the body you want. Its extreme ability to burn fat is surprising and its effects are noticeable from the first day.
XCESS Fat Burner acts on the inside, awakening the thermogenic process of your organism that will make your body turn fat into energy and will accelerate your metabolism, so you body can burn fat even at rest. But XCESS Fat Burner has been developed to go far beyond common thermogenics, acting in each one of the basic stages to loose weight: eliminatins excess liquids, reducing appetite, acting as an antioxidant and, specially, erasing fat once and for all.







XCESS Black Box has been developed to finally exceed genetic limitations


1st Action - Liquids
XCESS Black has a powerful draining effect eliminating excess liquid retention from the first day. In one week only you will loose volume and weight, and you will see it on your cloths.
2nd Action - Appetite
The excess of appetite in one of the biggest enemies for losing weight. When dieting, is hard to resist temptations. XCESS Black suppresses appetite to help you resist and, therefore, not to eat so many calories.
3rd Action - Elminating fat
The third and most important stage of XCESS Black consists of burining your body fat, even the fat storages that other thermogenics and diuretics cannot reach. The advanced formula of XCESS Black acts on cell level and on all the adipose storages of your body, eliminating excess fat and using it as an energy source for your day-to-day training.
4th Action - Antioxidant
Finally, XCESS Black has been enriched with Acai and Resveratrol, two powerful antioxidants used by Hollywood stars who have surrended to the hundreds of studies made all over the world showing the efficiency of these two powerful supplements. These studies have shown their benefits fighting aging, preventing wrinkles and maintaining a young and healthy body. Furthermore, Acai and Resveratrol significantly increase energy levels.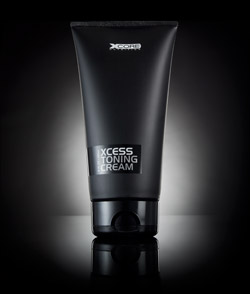 But Xcore Nutrition decided to go further. That is why we have added XCESS Black Toning Cream to this limited editions -a powerful reducing cream which erases fat from the outside to the inside in located areas. XCESS Black Toning Cream avoids stretch marks, tones the skin, but, most important, increases irrigation in difficult areas such as arms, abdomen, buttocks and thighs, so the action of XCESS Black gets to hard-to-reach adipocytes, destroying definitely the fat accumulated through the years.
XCESS Black Box goes far beyond any products you have already used. This is the definite measure so you cannot complain about having that body you have always dreamt with.
Discover by yourself what XCESS Black can turn you body into!
Benefits of XCESS Black:


Presentation:
XCESS Fat Burner 120 capsules and XCESS Toning Cream 150ml.

Note: We recommend you see a physician or nutritionist if you have any questions regarding the use of our product. Nutritional information may vary depending on flavor.
XCESS Black Box - Other related products