XCEED Isotonic Sports Drink 900g
XCEED Sports Drink is the key to exceed all your limits, time and time again.
Best price guaranteed
Quality and authenticity guaranteed
What's in XCEED Isotonic Sports Drink 900g
Lot:
9206624
Best before:
2014-07-04
900 g
Orange
Serving size: 3 scoop(s) (75.0 g)
Servings per container: 12

13.6%
271 kcal = 1134 kJ
Energy value
Carbohydrates
21.60%
64.80 g
Pantothenic Acid
112%
5.60 mg
* Percent Daily Values are based on a 2000 kcal or 8400 kJ diet. Your Daily Values may be higher or lower depending on your calorie needs.
** Daily Value not established

Ingredients
Maltodextrin, High Molecular Corn Starch, Fructose, Dextrose, Potassium Gluconate, Citric Acid, Magnesium Carbonate, Natural and Artificial Flavors, Colourants (Beta-Carotene),Beetroot powder, Ascorbic Acid, Pantothenic Acid, Sweeteners (Sucralose),.
Directions: For adults, add three (3) scoops (75g) of powder to 500 ml (16,5 oz.) of water or non-fat milk. Scoop inside container. This supplement can be used before, during and after your physical activity, according to your personal needs.

Warnings:
Consult a physician prior to use if you have any medical condition. This product does not replace a balanced diet and its consumption should be guided by a nutritionist or physician. This product is not intended to diagnose, treat, cure, or prevent any disease. Do not use if pregnant or nursing. Discontinue use and consult your doctor if any adverse reactions occur. Not intended for use by persons under the age of 18. Keep out of reach of children. Store in a dry place and avoid excessive heat.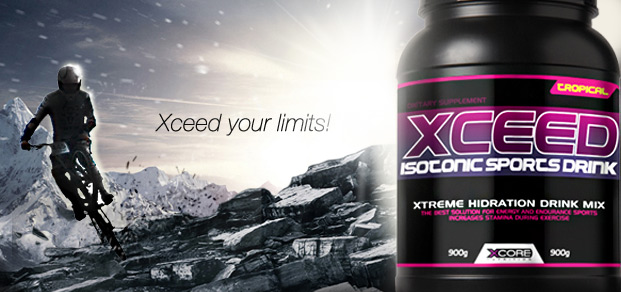 XCEED Sports Drink is the key to exceed all your limits, time after time
Designed by XCORE for people practicing short and long duration sports, XCEED Sports Drink is an energetic and isotonic drink that gives you everything you need to exceed your limits and beat all your adversaries. XCEED Sports Drink guarantees you extra energy for long workouts or during the most intense competitions.

XCEED Sports Drink is highly recommended for those practicing:
XCEED Sports Drink acts over the three key points of any sportsperson: Energy, Hydration and Recovery
Carbohydrates and fatty acids are the main fuels used by endurance athletes. In long duration physical activities, proteins can also help 5-10% as an energy source, and these values can increase if the amount of available glycogen is very low.
During exercise, the organism of an athlete needs fluids, that is why fluid replacement during exercise is extremely important, especially in adverse weather conditions, such as high temperatures. Under these circumstances, the body loses many fluids through transpiration, body temperature rises drastically and performance drops. The main function of sports drinks is hydration, but athletes also need to recover energy and electrolytes. XCEED Sports Drink contains the perfect carbohydrates ratio to avoid this energy decrease and improve performance, as well as electrolytes to promote hydration.
If consumed after exercise, XCEED Sports Drink quickly restores glycogen levels and accelerates muscle fibres recovery thanks to its fast-absorbing Pepto Pro-peptides.
XCEED Sports Drink has a D2U certificate that ensures the best quality at the best price, and that is has been produced in the lab and sent directly to the consumer. This means that XCEED Sports Drink gets to you directly with no third parties, thus guaranteeing the best price.
XCEED Sports Drink Benefits:
Note: We recommend you see a physician or nutritionist if you have any questions regarding the use of our product. Nutritional information may vary depending on flavor.
XCEED Isotonic Sports Drink 900g - Other related products